Union of organizations against abductions and disappearance had organized an awareness program through the media of leaflets for 17th (today) in protest against the continuing abductions and disappearances. They were stopped by the security forces at Puliyankulama this afternoon. The officers had told them that they could not be permitted to go to Jaffna and they could go to Mulative if necessary.
Tense situation erupted here between the organizers and the security forces officers and in the end they staged a huge protest there. Security forces continued to disrupt this protest against abductions and disappearances from this morning.
A special police unit first stopped their busses at Punawa 4km before Vaunia and told them they cannot be permitted to proceed further as Murukandi Bridge had been exploded:
They were later unnecessarily searched for over one hour at Joseph Camp and Police headquarters 2km and 1km before vaunia respectively.
There after their busses were stopped again at Thandikulam in Vaunia and Searched for three hours saying that they received information that bombs were transported in these buses.
The busses were again stopped when they had passed 5km after Vaunia and they were told that 4 bombs found in a lorry moving ahead were being neutralized by the Army, hence protesters could not be permitted to proceed further at the risk of their safety.
Their journey was held up also at Omanthei Check Point Searching over the buses for two hours.
The behavior of the Police and the Security forces was ridiculous obstructions, but no blast of a bridge was spotted nor did they see any attempt to neutralize any bomb. "Thinakural Rest" hotel where this union of organizations had planned to hold a media briefing was attacked by a mob of thugs at 1.30 pm and the property of the hotel and three vehicles that had been parked nearby had been damaged.
This union of organizations had representations from 17 political parties and organizations including movement for people Struggles, United Socialist Party, NSSP, Maoist Lanka Communist Party, Alternative Group of LSSP, Socialist Party, Socialist Organization, Fraksis Union, People's March Organization, We are Sri Lankans, People's Lawyers Association, Lawyers Associations for democracy, Students for Human Rights, Inter Company Employees Union, All Ceylon Telecom Employees Union and All Island Health Employees Union.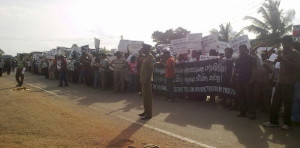 Tuesday, 17 January 2012
Lanka Views