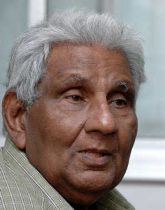 The sudden demise of Professor Karthigesu Sivathamby is a great loss to the Tamil World. I knew prof. Sivathamby as a student. He was just one year above me at Zahira College Colombo, where he headed the Tamil Association. He was much loved and respected by all students and teachers of Zahira.
The principal of Zahira at that time was Janab A.M.A Azeez who later served the country as a Senator and also as a Member of the Public Service Commission.
It is due to the encouragement given to him by the Principal Azeez, he organized several functions at college, one of which I remember was a reception to the late Mr. Krishnamoorthy, Editor of Kaliki, a very prestigious Tamil weekly published in India. My association with him lasted several years. His contemporaries were the late Mr. Sivagurunathan Ratnanathan of the same college who later edited the Thinakaran Tamil Daily and Janab H.M.P.Mohideen also of Zahira later editor of the Communist Party weekly "Thesabimani" and Dr. Kailasepathy of the Royal College who served as the Vice Chancellor of the Jaffna University.
I join the Tamil Literary World, his friends and members of his family in mourning the untimely death of this great Tamil Scholar who lived during our period which I consider as great pride for me. May his sole rest in peace