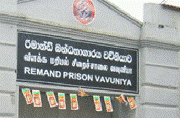 The prisoner who was injured in the recent Vavuniya hostage incident, transferred to the Mahara prison and later admitted to the Ragama Hospital has succumbed to his injuries today. The deceased was identified as Nimala Ruban a resident of Nelumkulam, Vavuniya.

The Prisons Department says it has launched an investigation into the death.
Three jailors who were taken hostage by a group of inmates at the Vavuniya Prison were rescued following a joint Army, Special Task Force (STF) and police operation on June 29.
The prison officials were taken hostage on June 28 during the transfer of a prisoner to a different facility, by inmates who opposed the transfer.
The government must take full responsibility over this death, and a full and free investigation should be carried out into the circumstances that led to his death, Democratic People's Front Leader Mano Ganesan speaking to Ada Derana a short while ago said.
He added that this incident is a clear example of the situation of political prisoners in Sri Lanka. The attention of the international community has turned towards Sri Lanka over these incidents, he claimed.
Ganesan called on the government to learn a lesson from this unfortunate death and release all political prisoner.
AD