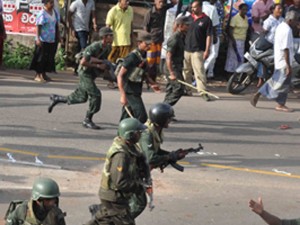 Killing fields in Weliweriya
A priest and a nun at a church were assaulted by troops during the violence in Weliweriya last week, lawyers said today quoting statements they had recorded.
The Bar Association of Sri Lanka (BASL) said that a team of lawyers had visited Weliweriya yesterday and recorded statements from people in the area as well as doctors who had treated the injured.
"The people still live in fear," an executive member of the BASL told the Colombo Gazette.

The BASL will be recording more statements over the next few days and will then decide on the next course of action.
According to the BASL, if required it will file legal action over the incident either as a Public Interest Litigation (PIL) or in support of a victim.
Three people have died so far and many others sustained injuries during the "battle for water" at Weliweriya.
The Sri Lanka Human Rights Commission has also launched an investigation into the incident.
A five member team of the Human Rights Commission has already recorded statements from the police, the public, a church in the area and from others involved in the incident.
The HRC today had meetings with 24 public institutions including the police and army over the incident.
The clash took place between the army and the public during a protest over contaminated water. (Colombo Gazette)