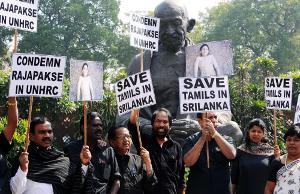 Pressure mounts on India to vote against Sri Lanka at United Nations
Congress ally DMK wants trial of the top leadership of the Rajapakshe government for 'war crimes'.
NEW DELHI: With all parties uniting to condemn alleged atrocities against Tamils in Sri Lanka, the Manmohan Singh government is under intense pressure to back a resolution critical of the island nation at the UN Human Rights Council (UNHRC) in Geneva.
External affairs minister Salman Khurshid stopped short of any commitment but told the Lok Sabha at the end of a heated four-hour discussion that the government will keep concerns voiced by MPs in mind while taking a final decision on the March 21st vote.

Khurshid's response did not satisfy DMK, AIADMK and BJP-led NDA and all three political formations walked out of the House protesting against what they said was the government's inability to support Tamils in Sri Lanka.
The minister said India has demanded an independent inquiry into reported abuse of human rights of Tamils, specifically stating that the death of Liberation Tigers of Tamil Eelam (LTTE) leader V Prabhakaran and members of his family should also be investigated.
The discussion saw Congress ally DMK call for the trial of the top leadership of the Rajapakshe government for "war crimes" while BJP demanded withdrawal of Lankan army from Tamil areas and AIADMK sought imposition of economic sanctions.
The mood of the House was deeply hostile towards Sri Lanka as allegations of torture and rape inflamed sentiments despite Lok Sabha Speaker Meira Kumar's call for restraint while referring to Sri Lanka and its public figures.
Responding to BJP leader leader Yashwant Sinha's charge that the UPA government was complicit in allowing the Lankan armed forces to act without restraint against Tamil civilians, Khurshid said it was unfair to reach such a conclusion.
Khurshid reminded Sinha that the infamous Kandahar swap of terrorists for hostages could be criticized but was not necessarily a betrayal of national interest. He pointed out India's decisions "…should not be thrown back at us in the future as everybody is not our friend".
Despite the government's misgivings over implications for issues like Jammu & Kashmir, Congress moved to assuage Tamil sentiment with party chief Sonia Gandhi deputing three MPs to attend the Tamil Eelam Supporters Organisation (TESO) meet in Delhi on Thursday. Minister of state in PMO V Narayanasamy also attended the meeting. Sonia sat through much of the discussion in the Lok Sabha.
"The government may have to support the resolution. It may try to ensure the language is not too offensive to Sri Lanka," said official sources.
As emotions ran high with MPs referring to a video that allegedly suggests LTTE chief Prabhakaran's 12-year-old-son was shot in cold blood, the government found it hard to balance diplomatic relations with popular sentiment. Even Congress's outside supporter Samajwadi Party chief Mulayam Singh Yadav took potshots at the government for mishandling ties with Sri Lanka.
Khurshid was frequently interrupted by DMK's T R Baalu and AIADMK's Thambidurai who sought to know the government's stand on whether it would move its own resolution or amend the one being moved at the UNHRC.
Sinha said the government must be forceful in getting the Lankan government to respect the human rights of Tamils that are still being violated and ensure the implementation of promises to grant the northern areas enhanced autonomy.
"We don't play the policeman of the world or the big brother in any country," Khurshid said when members, especially those from Tamil Nadu protested that the Centre is "ignoring" the plight of Tamils and the "genocide" by the Sri Lankan army.
DMK MPs protested when TMC's Saugata Roy alleged LTTE was also responsible for plight of Tamils living in the island nation. Roy said "LTTE was thoroughly a terrorist organisation".
Roy's was the lone voice on Thursday as MPs seemed to have developed amnesia about LTTE's refusal to commit itself to anything short of an independent Eelam and the organization's track record of using truce intervals to recoup and launch fresh terrorist attacks.
LTTE's repeated attacks on targets in Sri Lanka and the organization's global network of sympathizers who contributed to mobilizing funds and arms did not find mention either also Sinha referred to India's role in promoting the outfit and then cracking down on it.
Opposition AIADMK on Thursday also demanded public apology from Congress and key UPA ally DMK over condition of Tamils in Lanka and asked the government not to take part in the forthcoming Commonwealth Heads of Governments' Meeting (CHOGM) in the neighbouring country.
AIADMK member V Maitreyan, while speaking on motion of thanks on the President's address in the Rajya Sabha, attacked DMK and Congress for handling of the issue and expressed concern over no mention of it in the Presidential speech.
He said the US was moving a resolution on the Tamil issue in the UN Human Rights Council and urged the government to support it and "not dilute it like the last time".
TI