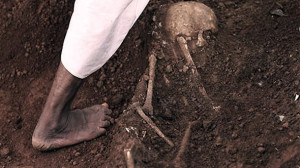 Matale mass grave
Crisis in the Judiciary?
A major judicial crisis is brewing, consequent to the sudden transfer of the Magistrate for Matale, Chathurika de Silva. The Bar Association of Sri Lanka (BASL) and the Janatha Vimukthi Peramuna (JVP), yesterday expressed displeasure over the sudden transfer of the presiding judge of the judicial inquiry into the Matale mass grave, Magistrate Chaturika de Silva, from Matale.

Her transfer has given rise to speculations within the judicial service that it was a consequence of her granting leave to the BASL to represent the public in the Court proceedings over the skeletal remains found in the Matale mass grave.
President of the BASL, Upul Jayasuriya, told Ceylon Today, the BASL would take up the matter at its next executive committee meeting on Saturday (29).
He described the transfer of Magistrate Chathurika de Silva as unexpected, adding the BASL is perturbed over the decision. "We will meet next Saturday to take up the case," Jayasuriya said.
Last month, the BASL volunteered to represent the public whose kith and kin had disappeared during the period of the JVP insurrection in 1988/89, claiming it was doing so in the interest of the public.
The JVP said it is highly suspicious of the transfer of the Matale Magistrate. Former JVP Provincial Councillor, Gamagedera Dissanayake, accused the government of interfering with the legal process and obstructing the normal course of justice. "This is political interference and anyone with some sense will view the transfer with suspicion," he said.
Ironically, the transfer coincides with the appointment of a three-member Presidential Commission to investigate into the Matale mass grave. Former Supreme Court Judge, Justice S.I. Imam, will chair the Commission with former High Court Judges Bandula Atapattu and Dhammika Kithulgoda as members.
Repeated attempts to contact the Secretary of the Judicial Services Commission (JSC), Sisira Ratnayake, to seek his comments, failed. Sources close to him said, as the newly appointed Judicial Service Secretary, he is under strict instructions not to answer calls from the media.
Chrishanthi Christopher
CT