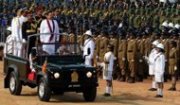 Sri Lankan President Mahinda Rajapakse on Saturday rejected international calls to withdraw troops from the island's former war zone as he marked the third anniversary of the Tamil rebels' defeat. In a bullish address to the nation, Rajapakse said he could not dismantle military camps in the north because it would undermine national security in a country slowly emerging from nearly four decades of ethnic bloodshed.

"The diaspora has not stopped their activities," Rajapakse declared, referring to Tamil separatists abroad. "It is no secret that LTTE (Liberation Tigers of Tamil Eelam) leaders are freely operating abroad."
"Some are shouting 'remove camps, remove camps'," Rajapakse added in his televised speech made at a military parade ground in the capital Colombo.
But "these camps are not in another country. We have troops elsewhere in the country as well".
His remarks came hours after US Secretary of State Hillary Clinton told Sri Lankan Foreign Minister G. L. Peiris in Washington that Colombo should de-militarise the former war zones and do more to protect human rights.
Rajapakse, who is already under fierce international pressure to probe allegations of war crimes, made it clear he would not bow to international demands.
"As a member of the United Nations we sit as equals with other nations. We have friendly relations with all nations and we have the strength to solve our own problems," he said.
"We have just begun to raise our heads… We have not forgotten the help neighbouring nations and the international community extended us to defeat terrorism. Now we expect them to help us in our accelerated development."
Last month, a delegation of lawmakers from neighbouring India also asked Sri Lanka to de-militarise in particular the northern region, where the final battles were fought and the Tamil Tigers defeated in May 2009.
Rajapakse denied that his forces were involved in the civil administration in the Tamil-dominated north, but made it clear that troops would not be removed.
"What the Eelamist terrorists could not do (dislodge the army from the north) through decades of war, they are now trying to achieve through other means," he said. "We will not allow it."
Rajapakse's troops ended 37 years of ethnic bloodshed by killing the leadership of the Tamil Tigers in a bloody final offensive.
Much of the military hardware that was used against the Tamil separatists was on display at Colombo's sea-front Galle Face promenade Saturday, where Rajapakse inspected a military guard of honour.
The offensive that finally crushed the Tigers triggered allegations of war crimes with rights groups saying that up to 40,000 civilians perished in the last months of fighting alone.
The United Nations estimates some 100,000 people died during the 1972-2009 ethnic conflict.
By Amal Jayasinghe | AFP