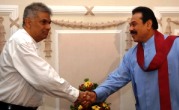 Before the crucial talks between Foreign Minister G.L. Pieris and US Secretary of State Hilary Clinton in Washington, the Government held discussions with the UNP yesterday over the Parliamentary Select Committee (PSC) on the National Question.

The Government has promised the UNP that it will walk the extra mile to get the TNA to participate in the PSC.

The United National Party has urged the President to form the PSC with the support of the TNA. The UNP has also stated that the Government should be ready to compromise on its rigid stance in an effort to get the TNA to participate in the PSC.

The UNP has made this request when a delegation led by Party Leader Ranil Wickremesinghe met President Mahinda Rajapaksa at Temple Trees yesterday morning to discuss the proposed Parliamentary Select Committee. Several senior UNP Parliamentarians namely Tissa Attanayake, John Amaratunge, Joseph Michael Perera, Lakshman Kiriella and Ravi Karunanayake took part in the discussions with the President on behalf of the UNP.
Representing the Government at the discussion were SLFP General- Secretary Minister Maithripala Sirisena, UPFA Genaral- Secretary Susil Premjayantha and the Leader of the House Nimal Siripala de Silva.
During the discussion, the UNP has stated that there was absolutely no point in forming the PSC without the input of the TNA which was the largest Tamil political party.

The UNP has also said that there should be a "plan" to get the TNA to participate in the PSC. As the first step, the UNP has urged the government to implement the LLRC recommendations with the consent of the opposition parties. The UNP has also said the matters which were discussed during the bi-lateral discussions between the Government and the TNA should be put to the PSC.
At the same time, the UNP delegation had requested the Government to prepare an agenda for the PSC so that the Select Committee can carry out its work effectively.
Speaking to Ceylon Today, a UNP Parliamentarian who took part in the discussion said the Government agreed with the remarks made by the UNP over TNA's participation in the PSC.
Meanwhile, prior to the discussion with the President, UNP Leader Ranil Wickremesinghe met TNA Leader R. Sampanthan last week. During the discussion Wickremesinghe had urged Sampanthan to participate in the Parliamentary Select Committee initiated by the Government to formulate a political solution to the National Question.
Wickremesinghe, had reportedly, told Sampanthan to take part in the PSC and "trap the government" to provide a political solution to the National Question. Sampanthan had agreed to Wickremesinghe's suggestion and had also agreed to work as a joint opposition. Sampanthan has also said that the TNA is willing to nominate its members to the PSC if the Government genuinely wanted to find a political solution to the National question.

However, it is learnt that there is a rift in the TNA over nominating members to the PSC since several TNA Parliamentarians are of the view that the TNA should not cooperate with the Government over the PSC.
By Rasika Jayakody
CT