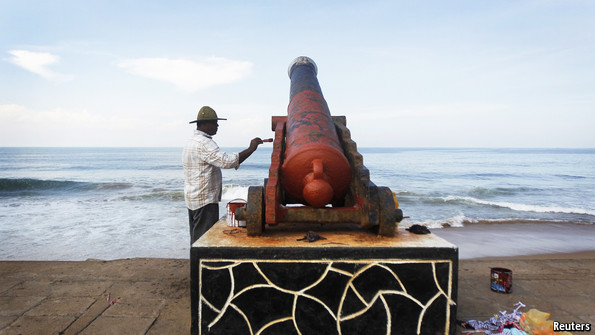 The centre wants to hold
TUGGING on a red curtain, the president, Mahinda Rajapaksa, opened a gleaming new toll road late last month. The $290m motorway links Colombo's airport to the capital, 26 kilometres (16 miles) away, and like so much in Sri Lanka these days, it is funded by China. Soon it will be whisking dignitaries to a summit of Commonwealth leaders, which Sri Lanka hosts this year, on November 15th-17th.

The summit, says the president's brother, Basil Rajapaksa, the economy minister, will be a national moment. "We have passed an important test," he says. "It is like having the Olympics." In reality, the Rajapaksa clan has its share of post-colonial resentment towards the Commonwealth, some of whose members have criticised the government's prosecution of the civil war: in 2009 it triumphed over the brutal Tamil Tigers, but at a huge cost in civilian lives. Yet the clan will aim to stifle their ill-will while making the most of the photo-opportunities with Prince Charles—everyone loves a royal, after all.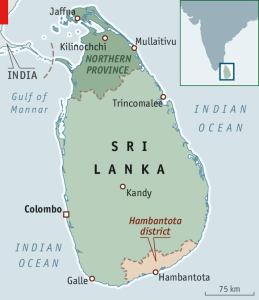 Add caption
Some Sri Lankans say the summit is too costly; others that Sri Lanka should not be the host, given the deaths of 40,000 civilians trapped in the fighting in the war's final weeks, and the government's tub-thumping triumphalism over the Tamils since. But at least it is an excuse for the drab capital to get a makeover (see picture).
Slums have been cleared, and glass towers are going up. The army has moved its headquarters from a prime beachside location to make way for glitzy hotel developments. Flush with cash, it is building a Pentagon-style complex on the other side of town. Everywhere, soldiers, of whom far too many have remained in uniform since the war, have been put to work by another brother, Gotabaya Rajapaksa, the defence minister. They are filling in potholes and prettifying pavements—and praying that fellow villagers visiting the capital will not spot them navvying.
But the country is looking beyond the summit. In a building near the beach, a casino operator sinks into a monstrous armchair and gushes about Colombo's gambling potential. His planned venture with an Australian investor includes a 450-room "five-star-plus" hotel to lure high-rollers from China, India and the Gulf. For now, blank-eyed tourists make do in dreary halls, playing roulette under fluorescent lights. But he, like all the ruling elite, is in a rush.
Tour Sri Lanka, and it is clear how infrastructure has boomed under Mr Rajapaksa and his three brothers (the third, Chamal, is the speaker of Parliament). Colombo's harbour has tripled in size, though most of its wharves stand empty. A toll road opened in 2011 to the Portuguese and Dutch colonial town of Galle. A railway extension is under way to Hambantota; in the far south of the country, it is the Rajapaksa power base. A new international airport there is said to see as many snakes in its terminal as passengers. A conference centre and cricket stadium stand empty most of the time. Some car-carrying ships have been ordered to divert from Colombo. Even so, Hambantota's new port festers almost deserted, says one analyst, as the world's "most expensive car park".
New construction has changed the war-torn north more than anywhere. An $800m project to renovate a northern railway will see trains chug back to Jaffna by June, nearly a quarter of a century after the capital of Northern Province was cut off by war; once torpid, the city bustles with commerce again. The main road in Kilinochchi, the Tigers' wartime capital, is lined with car showrooms. In Mullaitivu, devastated first by tsunami and then by war, new buildings easily outnumber shattered relics. In the north, Indian aid has provided 50,000 new houses for displaced Tamils.
Everywhere, and not just in the north, life is better since the war, though there are drawbacks. The building boom has pushed up inflation, causing much grumbling. Corruption has blossomed, along with padded contracts. A common quip is that new roads are narrower than planned because politicians pocket money meant for tarmac. Yet few speak out, even though some construction schemes, including those associated with Chinese state banks and construction firms such as in Hambantota, bring rising debt. Basil Rajapaksa bridles at any suggestion of graft in the system. Meanwhile, his brother, the president, never tires at having his name affixed to a new project.
The opposition is ineffective. The main grouping, the United National Party, is weakened by defections and infighting—two factions recently fought a street battle. It has been led for a long 19 years by a former prime minister, Ranil Wickremasinghe. He merely waits for something—an economic slump, perhaps, or foreign pressure—to boost his party's chances.
Triumphalism after the war has emboldened a hardline political right. Among certain groups of Sinhalese Buddhists, who make up the majority in the country, chauvinism is growing. Some of the groups are close to the government. Now the (mainly Hindu) Tamils have been put in their place, such chauvinists think, other minorities are next. In August Buddhist monks in Colombo led an attack on Muslims. Christians also fear being picked on.
Meanwhile, the Rajapaksas' ruling coalition, with a two-thirds majority in Parliament, tightens its grip. It has pushed through constitutional changes—scrapping presidential term limits, and abolishing independent police and electoral commissions—to centralise power. Judicial restraint is weak, notably after the peremptory sacking of the country's chief justice earlier this year.
The press, meanwhile, resents people expecting it to play the effective opposition. Besides, it is muzzled. President Rajapaksa routinely calls up publishers to issue directives. Rarely do journalists dare to be critical of the ruling brothers (Gotabaya, who is in charge of the secret police, is the most feared). Violence against government critics has grown rarer since the war, yet exemplary attacks by goons, or simply threats, help enforce self-censorship. All bar a couple of newspapers are in the hands of pro-Rajapaksa proprietors. Complaining of excessive levies, the casino owner denies any closeness to the Rajapaksa clan. But he owns a staunchly pro-government paper.
A challenge to the mighty president does not look imminent, though he is on his guard. Mr Rajapaksa is superstitious, even by Sri Lankan standards. Those who have seen him strip off say he wears all sorts of charms about him. He often carries a special gold bolt in his hand. At home, recorded chants play for good luck—geomancers have foretold more difficult years after 2014. The president appears impatient to tighten, indeed prolong, his grip on power.
One widely touted possibility, should the Commonwealth summit bring a public-relations boost at home, is an early presidential election next year—though Basil Rajapaksa denies it. More likely, says a senior official, the president could promote further constitutional changes, such as the creation of an upper house in Parliament. It might serve as cover for stripping the nine provincial councils—especially the Tamil-dominated one in the north—of their existing, albeit limited, powers, so retrenching the centre's authority further.
The president has made no secret of wishing to weaken the provincial bodies. A parliamentary select committee, crammed with ministers but boycotted by the opposition, seeks ways to reverse existing devolutions of power. Yet here India acts as a restraint. It has its own Tamil population concerned about their kin in Sri Lanka. It insists on respect for Sri Lanka's 13th constitutional amendment, which endows provinces with limited autonomy, notably over land ownership and police powers.
Not just India but other countries also keep an eye on the north, not least because of credible evidence of war crimes committed there at the end of fighting. The attention helped overcome the president's reluctance to hold provincial elections in the north that he had long promised. They finally took place in September. The result, for all the government's lavish spending on infrastructure, was a sweeping victory for the Tamil opposition. Perhaps northerners, thanks to outside support, may prove better able to resist a general drift towards authoritarian rule than their southern countrymen.
Economist