• Emphasise that contrary to original fears of international probe, this week's heavily toned down UNHRC report was a breakthrough and takes forward domestic mechanism idea.
• Govt. says Sri Lanka was saved from disastrous consequences thanks to good governance, political reforms and sincere reconciliation efforts since 8 January. .• Says international community took confidence from credible measures made following landmark change of political regime.
• Insist Sri Lanka's sovereignty and integrity weren't compromised.
• Sirisena stresses new journey started on 8 January must be persisted with, shunning extremists. 
• Ranil says passage of new US resolution and international community uniting for Sri Lanka key for the country's future wellbeing.
By Nisthar Cassim.
The United National Front Government yesterday set the record straight over the final report of the UN Human Rights Council (UNHRC), released earlier this week, saying the heavily toned down document and recommended measures were a "major victory" for Sri Lanka though challenges remain to be addressed.
In a bid to set the record straight and emphasise the positives of the Geneva report following some opposition politicians and biased analysts trying to mislead the country and international community, President Maithripala Sirisena and Prime Minister Ranil Wickremesinghe for the first time in recent months jointly chaired a briefing for editors yesterday. Foreign Minister Mangala Samaraweera, Justice Minister Wijeyadasa Rajapakshe, both of whom were in Geneva earlier this week, and Media Minister Gayantha Karunataillaka were present at the special briefing.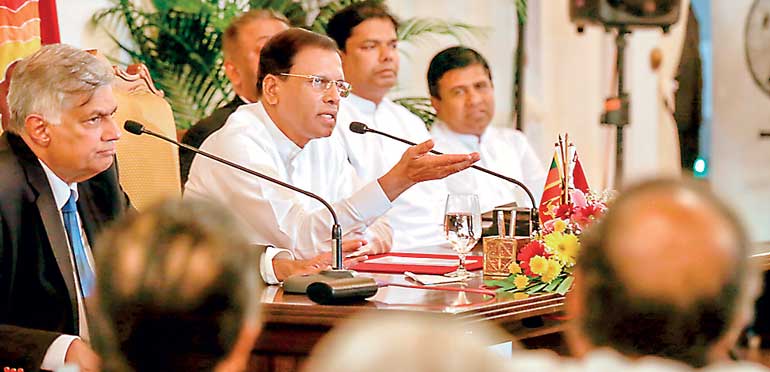 The President said politicians and political analysts with narrow agendas and seeking cheap publicity were trying to mislead the people by incorrectly interpreting the Geneva report and flagging off unnecessary concerns.
He said that prior to the regime change on 8 January, given the previous regime's insincerity, the international community was planning a more damaging Geneva report. An international inquiry and the naming of persons with specific human rights violations were on the cards.
This was to be followed by travel bans and economic sanctions.
"The outcome of the 8 January presidential election followed by various measures taken including the passing of the 19th Amendment brought about salvation for Sri Lanka as the UNHRC has come out with a toned down version of the report on Sri Lanka. It is 100 or 1000 times milder than what was feared or probable," Sirisena emphasised.
"If there was no change on 8 January followed by good governance, political reforms and reconciliation measures enabling the international community to have a positive outlook, Sri Lanka would have been marginalised internationally by now," the President added.
"The UNHRC report must be viewed in that context. There is a long way ahead for us and in this long journey a non-MR regime is crucial," Sirisena opined. He warned that people should not fall prey to extremist elements and viewpoints but stay on the course mapped out by the positive journey by the new Government.
 Prime Minister Wickremesinghe said that the UNHRC report was fair. "We haven't sold our sovereignty or integrity. We have saved not only Sri Lanka's future but also political VVIPs of the previous regime," he added.
This is based on the confidence and trust the international community had and continues to have on the measures implemented so far by the new unity Government, he emphasised.
He said that the UNHRC recommendations would be studied carefully and in parallel the report of the Paranagama Commission would also be considered whilst the Udalagama Commission's reporting was also being awaited.
"We are committed to a domestic mechanism.  However, there must be accountability as well.  No one will condone the rape of innocent women. These must be investigated. An MP has suggested proposing an Indemnity Bill in Parliament. If this happens then we are accepting the fact that there were widespread war crimes," Premier said.
"Let us salvage Sri Lanka and ensure the passage of the new US resolution which will come up for a vote later this month at the UNHRC sessions. We need to ensure that we move the Sri Lankan issue off UNHRC agenda," he added.
President Sirisena said that Sri Lanka had two options – face an international inquiry or a domestic mechanism. "We cannot reject both. The way forward is a domestic process and it is up to us to decide how to proceed with it," he added.
Foreign Minister Mangala Samarweera said since the 8 January election there had been a massive transformation in international opinion of Sri Lanka. "If the previous regime divided the international community, then Sri Lanka has a golden opportunity before it to unite the world once again to support Sri Lanka. I hope this will come true when the UNHRC Session takes its final decision. This will be the biggest victory," he added.
Justice Minister Wijeyadasa Rajapakshe said that the previous regime made Sri Lanka the first nation to move a resolution whilst being accused of war crimes.  This was done through an MOU signed between the then Government and the UN soon after the end of the war in May 2009. Fresh commitments were undertaken but the regime remained insincere to the task, leading the international community to lose confidence and patience.