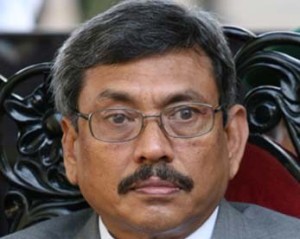 Devolution is a scheme for dividing the country
Power should be devolved according the wishes of the majority as this is a democratically elected government.
If the powers in Sri Lanka have to devolved it should not be done according to the manner the International community or to the needs of the Tamil Diaspora, but according to the wishes of the Sri Lanka people disclosed the Defence Secretary Gotabhaya Rajapaksa

After the completion of the war the international community is talking about the devolution of power. They give instructions to us including the Tamil Nadu government. He stresses that how can they give instructions with regard to the devolution of power. How can they do that? What does it mean by power devolution? ta scheme to devide this country again.
He went on to add that ours is a democratic country under a President elected by the people. Hence we have to take the ideas of the majority. In this democratic country there is no dictatorship from even the forces
Some sentences were added form the original Sinhala news story appear on the site Sinhala page.
C news