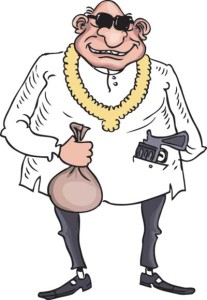 Currently, hardly a day passes without any story about a crime or a fraud involving a politician, particularly a local government member, being carried in the media. Obviously almost all these rogue (or allegedly rogue) politicians are attached to the United People's Freedom Alliance (UPFA), the ruling party in the Parliament, all Provincial Councils already constituted and almost a large majority of the local government bodies in the country.
The accounts of such events that had been carried in the Daily Mirror on two consecutive days would provide a graphic description of this abhorrent trend in the present- day politics.
Two police constables attached to the Bulathsinhala police had been hospitalised after being assaulted by a group led by a UPFA Pradeshiya Sabha member- May 28.
A fisticuff between a constable and the Embilipitiya Pradeshiya Sabha Chairman had ended with the constable being admitted to the hospital and his assailant fleeing- May 28.
The Kelaniya Pradeshiya Sabha Chairman who was alleged to have assaulted a businessman had been arrested- May 29.
Investigations had been commenced to arrest a former UPFA Pradeshiya Sabha member for assaulting four students in Mundalama- May 29.
The Mawanella Pradeshiya Sabha Chairman who had been accused of killing a person was kept under Kegalle High Court custody until the end of the hearing of the case for the day- May 29.
Many other incidents of assault, robbery, fraud, rape, murder etc. would definitely cross the minds of the readers when we refer to these stories published in two randomly chosen newspapers. The fact that almost all members of local government bodies who are involved in these crimes are affiliated to the ruling coalition does not indicate that only the ruling party members are corrupt or using the muscle power to meet their ends, nor does it mean that the members of the other parties or the members of any party in other higher councils elected by the people are saints. Rather, it points to the level of intoxication of the ruling party members with power even at the lowest level of the people's representation.
Against this backdrop one would see the proposal put forward by the People's Action for Free and Fair Elections (PAFFREL) last week to disqualify the local government members who fail to live up to the needs and the aspirations of their voters being appropriate, in spite of its possibility of implementation being extremely remote, in the present political context. However, if such a mechanism could be introduced and implemented confinement of it to the local government level is meaningless as the corruption seems to have invaded from head to toe of the polity.