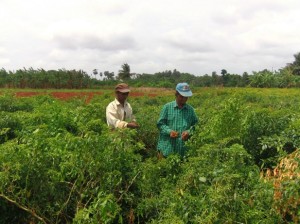 Chili-pickers near the High Security Zone border in Valikamam North, Sri Lanka (Image by author)
Ruth Canagarajah /Development Channel Staff
Emerging Voices features contributions from scholars and practitioners highlighting new research, thinking, and approaches to development challenges. This article is from Ruth Canagarajah, a Fulbright fellow in northern Sri Lanka who is researching the intersection of natural resources, livelihoods, and post-war challenges. Here she analyzes the impact of military land grabs on Sri Lanka's post-war recovery process.

Weak and ineffective property rights pose many problems in post-conflict situations. Secure property rights are needed to revitalize an economy after a volatile period. For many workers, especially farmers and fishermen, their very livelihoods are dependent on secure rights and access to land. In addition, reliable property rights encourage investors to take more financial risks and invest in a post-conflict country. Unfortunately, the impacts of a conflict—including displacement and resettlement of people; secondary occupation of land by state and non-state actors; and loss or invalidation of property and other legal documents, such as death certificates, which affect succession—make land issues difficult to resolve.
In the Sri Lankan civil war, which lasted almost twenty-six years and was only recently resolved in 2009, land was a central issue. Over the past three decades, the country, in particular the Northern and Eastern provinces, has been wrecked by man-made and natural disasters, leading to innumerable deaths and displaced people. The Sri Lankan government's Commission of Inquiry on Lessons Learnt and Reconciliation declared in 2011 that ensuring land rights is a necessary step in the restoration and reconciliation process. However this finding has not been acted on.
Although the government claims that managing the resettlement process has been one of their strengths in the post-war period, there are currently more than one thousand court cases filed by landowners who lost their land due to formalized land-grabbing policies. These government practices could result in a renewal of grievances and reemergence of civil unrest if the needs of original landholders are not met soon.
Since the civil war, the Sri Lankan military has seized land under the pretenses of security and development. A circular released in January 2013 declares that land lost during conflict will be used for security purposes and vaguely-defined "development activities." The act claims that the original land claimants are not traceable. Inhabitants of the Valikamam North region of the Jaffna peninsula, a hotbed of conflict during the civil war, have been greatly affected by these policies. The region's Myliddy harbor, said to be one of the highest yielding and most important fish harbors in the country, is now under military control as part of the ad-hoc High Security Zone (HSZ): a swath of land that takes up fifteen percent of the Jaffna peninsula and was established twenty-four years ago to secure restricted, strategic military bases and industries. Meanwhile, the harbor's original fishermen have struggled to resettle in areas such as Point Pedro and Valikamam East.


Farmers in the Valikamam North province, who once grew cash crops such as red onions, chilies, and tobacco, in addition to bananas and tomatoes, were forced to abandon their fields and cultivable land when the HSZ was established. They once hoped to return after the war, but this seems increasingly unlikely as the military, which has now taken over farming activities within the zone, is legalizing its ownership of the land through section two of the 2013 Land Acquisition Act.
Farmers that I spoke with in the small northern town of Tellippalai note that ever since they were forcibly displaced by the military, their lives have been in a constant state of flux: moving around the countryside, interrupting their children's schooling; cultivating small plots offered by nearby neighbors; and remaining unable to accumulate physical assets due to numerous relocations. Decreases in relief funds over the last three years and inadequate to nonexistent government compensation have made matters worse.
The government plans to turn the land it has grabbed into economic zones for the military and navy by constructing coal power stations, factories, and hotels, in addition to using the land for typical agricultural and fishing activities, but conducted by government workers instead of by the region's original labor force. In areas neighboring the HSZ, government surveyors are assessing where military barracks might be constructed. These "land alienation" policies are meant to boost investment, tourism, and production, but in reality they hinder poverty-reduction measures and post-conflict reconstruction.
To be sure, the military may have the resources and technology to make more optimal use of the land, but their actions undermine the post-war demilitarization and recovery process and threaten already unstable livelihoods that depend on restoration of private and public lands. In order for Sri Lanka's development and peace-building process to succeed, property rights must be protected and local populations should be consulted in order to resolve land disputes and move the country forward.
DC