I swear this is true!
Rajapksas have now started to talk about a police state, Hitlerait dictatorship and press freedom and to file fundamental rights petitions at the Supreme Court.
Your stomach may churn, but this is true.
Forgetting one's own past is an illness. It is called Dementia. Some people develop dementia willingly, which is probably the case of Rajapksas.
Bloody courts
It was Gotabhaya Rajapaksa, the then Defence Secretary, who said "(i)f you write one bloody word I will sue the writer and your newspaper – which I have already done –  I am not afraid of the bloody courts – I will sue you and shut down your f****** newspaper",  while he was screaming at the then Sunday Leader editor, Frederica Jansz, who later published his uncivilised words in verbatim in The Sunday Leader on 08th July 2012.
(Before this incident, Frederica Jansz had provided ample space to Gotabhaya Rajapaksa in her newspaper and he had provided her with personal bodyguards when she was giving evidence against General Fonseka).
"Are you threatening me?", Jansz asks Rajapaksa during her conversation.
"Yes! I am threatening you! Write every single word I have told you if you want – you write a bloody f****** word and we will see…  You pig that eats shit!!! You shit shit dirty f******* journalist… People will kill you!!!  People hate you!!! They will kill you!!"[i], he shouts.
The same Rajapaksas talk about press freedom and police state today.
Gotabhaya Rajapaksa, who then said "I am not afraid of bloody courts" has recently filed a Fundamental Rights petition at the SC and obtained an interim order to prevent him being arrested. It seems that today human rights have become a precious thing for Rajapaksas.
The situation was greatly different when Gotabhaya Rajapaksa was the Defence Secretary: Number of journalists who had filed Fundamental Rights petitions had to withdraw their petitions under pressure.
HR applications at SC
N. Vithyatharan, chief editor of the Tamil newspaper Sudar Oli at the time, was abducted in Colombo on 26th February 2009. He was attending the last rites of a close relative at a funeral parlour. Among the abductors were uniformed policemen.  Because of pressure exerted by local and international media organisations the abductors had to abandon their plan. Police who had earlier stated that Vithyatharan had been abducted, announced within hours that he had been detained by the Colombo Crime Division of the Police.  The Police announced that they had found him by the road side, tortured.
"Three uniformed police officials and three thugs in civilian clothes handcuffed and blindfolded me. I was thrown onto the floor [of the vehicle] between the seats. They then stripped me and kept assaulting me, stamping on me with boots, and all the time scolding me with utter filth. I expected death at any moment at the hands of these thugs, just like many journalists in Sri Lanka'' [ii] Vithyatharan told media upon his release.
This was one of the incidents that Rajapaksas and their henchmen have conveniently forgotten.
What Gotabhaya Rajapksa told Australian SBS TV on the same day surpassed the crime of abduction itself: "Vithyatharan is a terrorist. If you try to safeguard him, you will have blood on your hands. He is the person who coordinated LTTE air attacks in Colombo" [iii] the Defence Secretary spoke to international television in a very agitated voice before the investigations were over and before Vithyatharan was produced in Courts. Speaking to media he displayed through his tone and expression, the unquestionable power he was wielding.
Later, Rajapaksas released Vithyatharan without any charges. However his release was conditional: Vithyatharan had to withdraw the fundamental rights petition he had filled against abduction, assault and illegal arrest.
It is the same Gotabhaya Rajapaksa who today files a Fundamental Rights case to prevent him being detained!
Passing Judgements 
A year before the abduction of N. Vithyatharan on 6th  March 2008, printer/publisher N. Jaseekaran and journalist V. Valarmathi were arrested by the Terrorist Investigation Division (TID), which was under the control of Gotabhaya Rajapaksa.  In this case also, before the court of justice had made its decision, the website of Gotabhaya Rajapaksa's  Defence Ministry passed  judgement: "The suspect Vettivel Jaseekaran, Batticaloa was running a printing press at No. 317, Jampettah Street, Kotahena, Colombo 13 and printing literature against the government by aiding and abetting the LTTE propaganda work, thus damaging the reputation of the Sri Lankan government''[iv], it was mentioned.
After having spent over a year in detention, two of them field FR cases against the relevant authorities.  A three-member bench including the Chief Justice had fixed the inquiry of the Fundamental Rights petition to 30th October 2009. Jaseekaran had been tortured and there was medical evidence to prove that.
On 26th October 2009, just 4 days before the FR case was to be taken up and on the 600th day of their detention, B. Jaseekaran and V. Valarmathi were released as the state council withdrew the charges filed against them. This time also, the release was based on one condition: "AG Mohan Peiris, PC,  informed Colombo High Court through state counsels that the charges against N. Jasiharan and his wife will be withdrawn provided the accused withdraw their Fundamental Rights (FR) petitions filed in the Supreme Court against police Terrorist Investigation Division (TID)."[v]
No more examples are needed to explain how human rights and FR cases were treated under the Rajapksas. It is difficult to believe that the same Rajapaksas are now filing FR cases at the SC. Is it an irony of destiny? Or signs of dementia? Or both?
"Sri Lanka has now become a police state," because "every Ministerial Secretary under the former regime is being charged with bribery and corruption today and is summoned for questioning'' [vi] Gotabhaya Rajapaksa said on 23rd April this year
Police state
His statement is in fact not true. Besides, even if every Ministerial Secretary is summoned for questioning, that does not make a country a police state. Under Rajapaksas the Police was brought under the Ministry of Defence and was used to suppress peoples' rights.  It has now been revealed that the Police collected monthly telephone bills of selected persons every month form all mobile and land line providers.   "'Unfriendly' military, police officers, Colombo-based diplomats and other leading citizens were monitored blatantly violating the law…   All mobile phone operators were issued written instructions by an official in the Ministry of Defence and Urban Development. They were directed to make available the monthly telephone bills of these persons to an Assistant Superintendent of Police (ASP) in the Terrorism Investigation Division (TID) for reasons of 'national security'". Those telephone bills were systematically analysed and a report was prepared for scrutiny by the higher-ups"[vii].
The two Rajapaksas who controlled the Ministry of Defence and turned the country in to a police state, today, speak about the existence of a police state.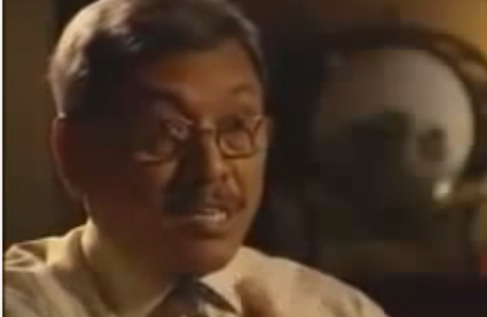 If Gotabhaya Rajapaksa wants to know how officials in a police state behave, all he has to do is to revisit his own interviews where he shouted "Who is Lasantha Wikrematunge? Why are you asking about Lasantha? ''[viii] or where he threateningly said "We will hang him (General Fonseka) if he testify before a International investigation''.[ix]
The very same Gotabhaya Rajapaksa who shouted in a fit of rage, now talks about rule of law in Sri Lanka.
Just two days after the presidential election 2010, on 28th January, Gotabhaya Rajapaksa made a phone call from his mobile phone (077 3591626)  to then JVP leader Somawansa Amarasingha and threatened him with dire consequences if he does not stop his political work. Gotabhaya Rajapaksa also demanded that JVP stop printing Lanka newspaper and threatened that if it was not done, he will set fire to it[x]. Setting fire to media institutions was nothing new under Rajapaksas rule.  The office of Lanka newspaper was sealed just two days after this threat and its editor was detained. No case was filed against the newspaper or its editor. Simply, Rajapaksa's threat was being carried out.
Today Rajapaksas talk about press freedom and rule of law!
Sometime ago on 17th April 2007, Gotabhya Rajapaksa, the Defence Secretary,  called the editor of the Daily Mirror and threatened her with death and said that he will "exterminate" a young journalist over articles about the plight of civilians caught up in the country's civil conflict.[xi] Rajapaksa then demanded that the editor resign or he would force management to dismiss her on the grounds of preventing a reprisal against the newspaper[xii].
Rajapasas are doers!
Nearly one year after threatening to exterminate a journalist on 26th May 2008,  Gotabhaya Rajapaksa summoned the then president and secretary  of the Sri Lanka Working Journalists Association, Sanath Balasuriya  and Poddala Jayantha, for a discussion. During the discussion Rajapaksa bluntly said "Discussion? What discussion with you people? No discussion, you listen to what I say. You fellows are criticising the army openly on the roads — and the Army Chief. Do what you want, but what has to happen will happen, it will happen from the places that it should". "People will kill you!''[xiii] he also said.
Gotabhaya Rajapaksa's threat materialised on 01st June 2009: Journalist Poddala Jayantha was abducted by a white van. He was blindfolded, beaten with iron rods and wooden poles and was accused of being a traitor; the same accusation Gotabhaya Rajapaksa had made a year ago.  After assaulting Jayantha severely, abductors left him in a ditch to die.
Rajapaksas are doers. True.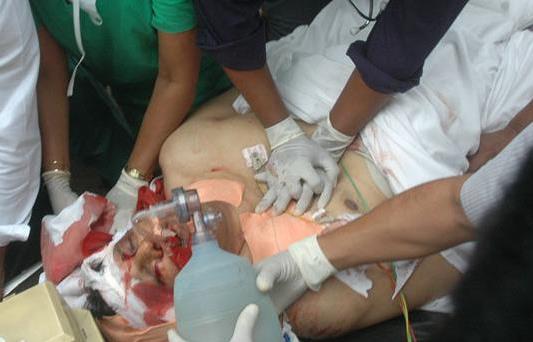 "I know what to do to you; I will kill you", Mahinda Rajapksa, the then president, threatened Sunday Leader editor Lasantha Wikrematunge on 11th January 2006. Using foul language Mahinda Rajapaksa said "you are a mother f****** son of a whore''. [xiv] Three years later on 08th January 2009 the undated death sentence proclaimed by Rajapaksa was carried out in broad daylight.
Today Rajapaksas talk about police state and Hitlarite regime. One can site unending incidents of political intimidations and killings that took place under Rajapaksa rule.
On 07th May Mahinda Rajapaksa told media that what we have in Sri Lanka today is Hitlarite rule following good governance. Was he saying that Rajapaksa rule was good governance? It was ironic that he uttered those words while coming out of the Welikada prison after visiting one of those remanded for abuse of power and money.
We need to remind Rajapaksa one thing.  Hitler changed the Weimar Constitution in 1933 to prolong his rule and made the parliament redundant. The 18th amendment of Rajapaksas was meant to prolong their rule. Who was following Hitler's footsteps?
Either Rajapaksas who are preaching human rights to us are insane or we, who are listening to their preaching, are insane.
In a popular Sinhala comedy one asked another "Who is mad? You or me?". "Both", the other replied.
This can be true here as well.
[i] http://www.thesundayleader.lk/2012/07/08/gota-goes-berserk/
[ii] http://www.wsws.org/en/articles/2009/05/slab-m11.html
[iii] See video: http://www.sbs.com.au/news/dateline/story/hunting-tigers
[iv] http://groundviews.org/2009/11/09/the-case-of-jaseekaran-and-the-rule-of-law-in-sri-lanka/
[v][v][v] http://www.bbc.co.uk/sinhala/news/story/2009/10/091020_tissa_publisher.shtml
[vi] http://www.adaderana.lk/news.php?nid=30604
[vii] http://www.sundaytimes.lk/150118/columns/corruption-and-abuse-of-power-probes-by-special-tribunals-131235.html
[viii] See video: https://www.youtube.com/watch?v=n5rGTIZN9Kg
[ix] See video: http://news.bbc.co.uk/2/hi/programmes/hardtalk/8726150.stm
[x] http://jdsrilanka.blogspot.ch/2010/01/i-will-set-your-newspaper-on-fire-sl.html  & http://www.lankanewspapers.com/news/2010/1/53409_space.html
[xi] http://en.rsf.org/sri-lanka-defence-secretary-threatens-editor-19-04-2007,21819.html
[xii] http://www.wsws.org/en/articles/2007/04/sri-a24.html
[xiii] http://www.thesundayleader.lk/20080601/POTSHOT.HTM
[xiv] http://comments.gmane.org/gmane.culture.region.india.zestmedia/667