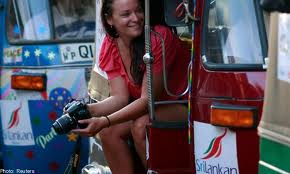 AFP- Sri Lanka's police have begun keeping track of foreign tourists to "ensure their own safety", officials announced on Monday.
Hotels and guest houses have been told to submit weekly reports of their foreign guests as part of a new security plan for tourists, police spokesman Buddhika Siriwardena said.

"Tourists are important to our economy. This is to ensure their own safety," Siriwardena told AFP. "This scheme will ensure officers will have details of tourists in their areas to protect them."
Hotel owners said they have been asked to pass on passport and visa details of all foreigners in addition to information already given to the authorities for maintaining industry-related statistics.
"Some people may be put off because this looks like surveillance," a hotel executive, who declined to be named, said.
A British national was killed in a gang attack at a southern tourist resort in December 2011, and two Europeans were beaten up in central Sri Lanka last month.
The British Foreign Office website says violent crime against foreigners is "infrequent" in its former colony, but notes an "increasing number of reports of sexual offences, including on minors".
Tourism has grown sharply after troops crushed Tamil Tiger separatist rebels and ended nearly four decades of ethnic strife that claimed up to 100,000 lives, according to UN figures.
Hotel prices have increased three-fold as a million tourists visited Sri Lanka in 2012, double the average in the final years of the civil war. Sri Lanka scrapped its visa-on-arrival system and began charging entry fees in 2011
PH