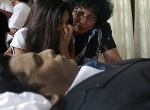 After two and a half years, no suspects yet
The investigation into the murder of the founding editor of The Sunday Leader newspaper, Lasantha Wickrematunge, has been unable to find a murder suspect even two and a half years after investigations into the incident since the main aim of the investigation is to blame former Army Commander Sarath Fonseka for the murder.

When inquired about the progress repot on the murder investigation given by the police to courts, a senior police officer said the investigation is a mess.
Controversial and unsolved murders are usually handed over the Criminal Investigations Department (CID). The officer said that it was
baffling to see Lasantha's investigation being handed over to the Terrorism Investigations Department (TID) by the CID.
The police officer said that the CID had found that mobile service provider, Dialog Company, had erased all mobile phone details of Lasantha's phone without heeding a court directive.
It has been revealed that the two persons in custody over the murder, a garage owner, Picchai Jesudasan and former Army intelligence unit member, Kandegedara Piaywansa could not be charged with murder or aiding and abetting a murder.
Jesudasan's identification papers had been used to purchase five mobile SIM cards that had been used only on the day of the murder, January 8, 2009.
The mobile phone towers have recorded that while one SIM card had operated from Nugegoda, the remaining four numbers had been operated on the road from Lasantha's residence to the office in Attidiya.
Therefore, Jesudasan has been arrested on the belief that the five mobile phone numbers had been used to pass messages on the day of the murder.
Piyawansa was arrested following a statement made by Jesudasan that he had lost his identity card while having a drink with Piyawansa.
Brigadier Dumnida Keppetivalana, who at the time was in-charge of security in Colombo, was arrested for releasing 10 Army soldiers on a special assignment that day. The 10 Army soldiers were also arrested. However, the Brigadier and the 10 Army soldiers were released by court due to the lack of evidence to charge them.
Piyawansa was also presented to court over the attacks on Rivira Editor Upali Tennekoon and senior journalist at The Nation, Keith Noyar.
However, he was released by court claiming there was evidence to hold him on the cases.
LNW