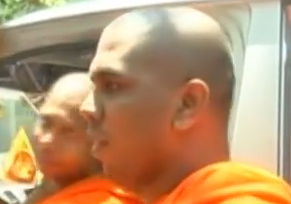 one of the Monks in the video
Kollupitiya Police today informed the Colombo Fort Magistrate today that they have failed to ascertained the suspects of the case pertaining to the incident where a group of BBS monks stormed the Ministry of Industry and Commerce, led by Minister Rishad Bathiudeen. The Kollupitiya Police informed the Fort Magistrate that they have observed video footage given by six media institutions, but failed to ascertain the suspects of the case.
Watch video here to see the Monks
Colombo Fort Magistrate Thinila Gamage the ordered the Police to present a detailed report on the matter on July 31.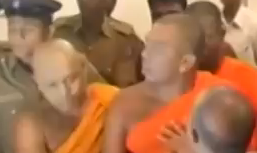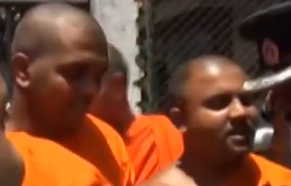 In the video the faces are much clearer
The Fort Magistrate on April 28 ordered the Kollupitiya police to conduct investigation to identify the Buddhist monks of Bodu Bala Sena (BBS) who stormed Minister Rishad Bathiudeen's Ministry in search of Watareka Vijitha thera, convener of the Jathika Bala Sena.
The Court ordered Police to check CCTV footage obtained from the Ministry to identify monks. Colombo Fort Magistrate Thilina Gamage made this order following a request made by Kollupitiya police