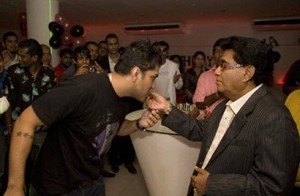 Accused Malaka with his father Minister Mervyn Silva
Police, who are conducting investigations into the assaulting of an Army Major and a corporal allegedly by a group led by the son of controversial Minister Mervyn Silva in the early hours of last Sunday are not forthcoming with clear answers.
In addition to the assault, the gang numbering seven had removed the official firearm of the major, his cell phone and a gold chain.
When The Island contacted police spokesman SSP Ajith Rohana to find out what steps the police had taken to nab the attackers who caused injuries to the body and head of the two army personnel, who are still being treated at the National Hospital,
he said that the Slave Island police had taken a detailed statement from the victims and they were awaiting for more evidence to arrest suspects.
He said that CCTV cameras fixed around the hotel would help police ascertain the suspects and could gather more evidence on the incident before taking action against those attackers.
When asked whether any suspects were questioned, he said that no one was questioned but main suspect Malaka Silva's driver came on Sunday evening and handed over the pistol and the cell phone of the Major.
The driver had told the police that he collected them when those items fell while the fighting was going on, he said.
According to the police, there had been seven men including Mervyn Silva's son, Malaka Silva and late MP Manoj Wijeratne's son, Rehan Wijeratne.
According to the detailed statement made by Major Chandana Pradeep, both of them were on duty when they had been assaulted by Malaka Silva and Rehan Wijeratne.
The confrontation at the car park of Hilton Residences (former JAIC/ Hilton) had taken place over dispute between the two parties.
When the police was questioned whether Minister Mervyn's son and those involved were absconding, he said that they were not and the police were investigating, and would take appropriate action based on evidence obtained from CCTV cameras of the hotel.
By Madura Ranwala
IS