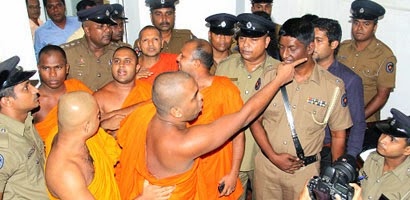 Police have requested public assistance to identify the Buddhist monks of Bodu Bala Sena who stormed into the ministry of commerce on April 23, 2014. It has become unable to identify the Buddhist monks who are facing charges, police say. The police informed the courts thus after the case on this regard was taken up by the Fort Magistrate court. Police have requested the court for more time to continue investigations.
In complying with the request, the magistrate ordered to take up the case on June 31.
The magistrate also ordered to produce a report on the progress of the investigations by then.
Earlier, producing a report before court, police informed that the security camera system in the ministry was inactive when the BBS monks stormed into the ministry.