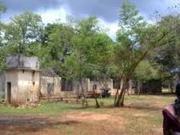 The people of Vali North say that they intend resettling in the land grabbed by the forces, with holding white flags.
The displaced people expressed their intention to the TNA parliamentarian Vinayagamoorththy and have demanded co-operation from the TNA parliamentarian as people's representative

The security forces have acquired the coastal village of Myliddy as a high security zone for the last 22 years. People who displaced from this area are now living in the Vadamarachchi area. However tension between the local people and the displaced people has sparked up and displaced people demand that they should be allowed access to the coastal areas if not for allowing them to resettle. They handed over a memorandum to Minister Douglas Devanandha last week, and in the meantime these people have announced that they will be returning to their own places holding white flags.
In the meantime another TNA parliamentarian Suresh Premachchandran also had met the displaced people fighting for resettlement.
On the other hand the police are very busy in pinning former TNA parliamentarian Sivalingam for contempt of the court regarding tearing a court order, during a recent protest demonstration by the Tamil National People's front. The Police officer in charge Saman Sigera had confirmed this, and Sivalingam in the meantime has said that he is ready to face the issue legally.
GTN