Image:Worshippers pray inside the Meera Mosque in Katankuddi, in front of the bullet-riddled wall dating back to an attack that killed over 100 people 25 years ago. Credit: Amantha Perera/IPS.
By Amantha Perera.
KATANKUDDI, (IPS) – It is a Tuesday afternoon and only a handful of devotees have flocked to the Meera Grand Mosque in Katankuddi, about 300 kms east of the capital Colombo.
As they prostrate in prayer, the wall in front of them is anything but pious. It is pock-marked with hundreds of holes bored into it when attackers opened fire using automatic weapons on Aug. 3, 1990. Suspected Tamil Tiger separatists attacked the Meera Mosque and another smaller prayer center Husainiya Mosque close by. By the time the attackers fled, 103 people were dead.
"During the war, we had less people here. Now there are more people, more cattle and more elephants fighting for the same water and the same land." — villager Wickrama Rajapaksa
The mosque committee and villagers have kept the bullet-riddled wall as a reminder of the regions bloody past. For over 30 years, Katankuddi was in throes of Sri Lanka's bloody civil strife. A Muslim enclave surrounded by Tamil villages, Katankuddi suffered terribly. Its population felt besieged and was waiting for the first opportunity to flee. As in most of Sri Lanka's North and East, where the war left over 100,000 dead, millions were displaced and the region suffered billions of dollars in damages and losses.
But the nightmare ended seven years back, when government won its war with the Tamil Tigers. Since then, towns like Katankuddi have adjusted to peace — and with it, to a whole new set of problems.
For starters, not many people want to leave Katankuddi, but hundreds want to somehow find a home there. It was never a village with much open space to spare. Because of its ethnic composition, Katankuddi was always jam-packed. Now it is bursting at the seams.
In a land area of 3.89 sq km, there are 53,000 residents and a population density of 13,664 per sq km, over 20 times the national average of between 300 to 400. According to M.M. Shafi, the secretary of the Katankuddi Urban Council, in the last five years alone, at least 500 families have returned or relocated to Katankuddi.
"People now don't want to leave," he said.
Peace has brought with it a huge, stinking garbage problem. Shafi and other public officials have to find ways to dispose of a daily garbage collection as high as 30,000 metric tonnes. They do have a small compost plant, but it is no match for the daily collection.
During wartime, the Urban Council began dumping the garbage in the lagoon. Nowadays, that dump is a massive man-made island extending 75 metres into the lagoon. The landfill has also provided a playground to a nearby school and with its exceptional growth rate, it can easily provide for more.
"The Muslim nature of this town can not be changed, it something that is very important. But we do have a land problem — a big problem," said Mohamed Zubair, vice president of the Katankuddi Mosque Federation.
It such a massive problem that land value here is equal to some outlying areas near the capital Colombo. "When the war was on, the demand for land was manageable. Now it is going through the roof," public official Shafi said.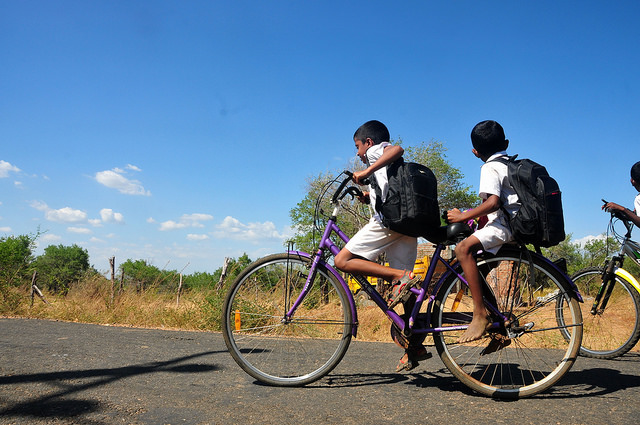 Even in poorer areas of the region, land and resources like water have become scarce. In Welikanda, about 70 kms west of Katankuddi, the villages are much more spread out and the green cover is more conspicuous — but so is the poverty.
Public official Harsha Bandara says that even the Welikanda division is facing a serious shortage of water and agricultural land. In the last six months, it has suffered a major dry spell. By end of October, over 35,000 people were reliant on transported water in the division.
"The problem is that since the war's end, people are not leaving. They will plant crops throughout the year and look for new land as well. On top of that, the rain patterns have changed, so we have a situation here," said Bandara, who is the divisional secretary for Welikanda.
For villagers like Wickrama Rajapaksa, the drought means double trouble. "Elephants, they keep coming into villages, because dry earth makes the electric fence faulty and they know that. They also know that there are no firearms in the villages since the end of the war, but that where there are humans, there is food and water."
He said that thousands of cattle from other parts of the country have been relocated to Welikanda and adjoining areas since the end of the war by large dairy companies.
"During the war, we had less people here. Now there are more people, more cattle and more elephants fighting for the same water and the same land."
The government is drafting a new constitution that it plans to finalise before the end of the year and put to a public vote in 2017. But Prime Minister Ranil Wickremesinghe recently said that the draft will protect the special place accorded to Buddhism in the existing charter, leading to fears that the Tamil minority will continue to be second-class citizens.
"The political history of modern Sri Lanka is one of missed opportunities by the Tamils and broken promises by the Sinhalese," Mano Ganesan, Minister of National Co-Existence and Official Languages, told the Indian Express this month.
IPS