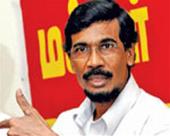 Despite the SLFP General Secretary, Minister Maithreepala Sirisena, announcing earlier that relatives of the ruling coalition politicians would not be given nominations to contest the forthcoming provincial council elections, 23 relatives of government politicians have been given nominations to contest on the UPFA ticket, the JVP claimed yesterday.

Addressing a media conference at the party's Pelawatte head office, JVP General Secretary Tilvin Silva said that the majority of government politicians' relatives were contesting from the Kegalle District.
According to the JVP, Minister Athauda Seneviratne's son Parakrama Athauda, his son-in-law Udayakantha Gunathilake, Deputy Minister H. R. Mithrapala's son H. R. Dushmantha, Minister Ranjith Siyambalapitiya's cousin brother Harsha Siyambalapitiya, Deputy Minister Lalith Dissanayake's son Chamila Dissanayake, Minister Jagath Balasuriya's son Taraka Balasuriya and parliamentarian Y. G. Padmasiri's daughter Y. G. Jinadari were contesting the Sabaragamuwa Provincial Council from the Kegalle District's UPFA list.
Nephew of minister W. D. J. Seneviratne, Prabhath de Alwis, minister Pavithra Wanniarachchi's husband Kanchana Jayaratne, deputy minister Premalal Jayasekera's brother-in-law Ranjith Bandara, former parliamentarian Jayatissa Ranaweera's son Chaminda Ranaweera and former parliamentarian S. Liyanage's son Waruna Liyanage were contesting from the Ratnapura District, he said.
Minister Tissa Karaliyadda's wife Kalyani Karaliyadda, minister S. M. Chandrasena's younger brother S. M. Ranjith were contesting from the Anuradhapura District for the North Central Provincial Council.
Silva said that not only relatives of the government politicians but also several gangsters and criminals were in the UPFA lists.
JVP leader for the Sabaragamuwa Provincial Council former MP Gamini Ratnayake said that an Island Reconvicted Criminal (IRC) was in the Kegalle District UPFA list.
JVP leader for the North Central Provincial Council Wasantha Samarasinghe said that a former head of a government institution who was charged by the Presidential Investigation Unit for fraud was also contesting from the Anuradhapura District. His case was still being heard at the Anuradhapura High Court.
The JVP general Secretary said that all those candidates used government properties and resources for their campaign violating the election law.
by Dasun Edirisinghe
IS