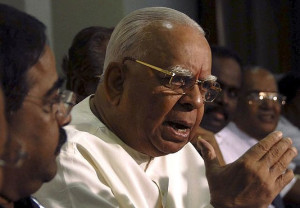 Sampanthan: East won by parties opposed to UPFA
The elections to the Eastern Provincial Council have concluded and the results have been announced.
The ruling UPFA violated all norms of democracy and good governance in a polls campaign that was marked by a well documented pattern of gross abuse of the state apparatus and resources.
The UPFA utilized all governmental resources to influence the result. It also intimidated opposition parties' candidates, bribing, unduly influencing voters and even spreading false propaganda to the effect that the TNA leader had announced the withdrawal of the ITAK from the contest.

Despite this UPFA campaign of terror the people of the Eastern province have reiterated their support and confidence in the TNA (ITAK) and we are pleased that we won two of the three districts securing the majority vote in both the Trincomalee and Batticaloa Districts and a substantial vote in the Ampara District.
The elections took place in an environment where a large number of Tamils yet continue to be displaced and a larger number of Tamils have fled and continue to flee the country due to the policies of the Rajapakse Administration. We sincerely thank the Tamil speaking people for the support and solidarity that they have demonstrated at this election, despite the ruling UPFA violence and intimidation. The ruling UPFA barely secured 6,200 votes more than TNA in the whole Eastern Province, largely on account of its abuse of state resources.
The political parties opposed to the UPFA in the EPC have won this election. The Ilankai Tamil Arasu Kadchi (ITAK) has won 11 seats, the Sri Lanka Muslim Congress (SLMC) has won 7 seats and the United National Party (UNP) has won 4 seats. The parties that opposed the United People's Freedom Alliance (UPFA), the governing party at the Provincial Council election have a very clear majority in the new Council, just elected.
On behalf of those parties opposed to the governing UPFA in the Eastern Province, we TNA (ITAK) stake the claim to form the Eastern Provincial Administration together with the SLMC and UNP. Given the sordid track record of the government and its various activities to disturb the communal peace and harmony in the Eastern Province, the formation of a provincial government by the said three parties would be in the best interests of all the Peoples who live in the Eastern Province.
We wish to state that the member of the Provincial Council with the best ability to command the support of a majority of the members of the Provincial Council and thereby become Chief Minister should be chosen by the members of the Provincial Council of the said three parties. The choice of such a member will be communicated to the Governor shortly. We wish to point out to the Governor that the UPFA and the National Freedon Front (NFF) together do not and cannot command the support of the majority of the members of the Council.
R Sampanthan MP.President, ITAK
Mavai Senathirajah MP , General Secretary, ITAK
9th September 2012
LNW