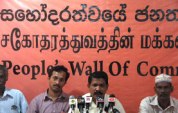 The police and the army had been used to avert the protests that were scheduled to be staged at Vavuniya . The villagers who were to participate had been threatened and intimidated against taking part in the demonstrations. An injunction order had also been taken by the police to stop this protest demonstrations yesterday (23).

The protests to be staged was against the failure to re settle the displaced persons in their original villages ; acquisition of their lands forcibly by the Govt. and their officials; and demanding the release of the political prisoners and restoration of civil administration in those areas.
This demonstration was to be staged by the 'Sahodarayo janatha Pavura ' Organization .
The convener of the Organization , Sunil Handunetti M P , former M P Ramalingam Chandrasekeran and others were to participate . They had also visited the political prisoners in the Vavuniya prison who have staged a fast unto death which began six days ago. Sunil Handunetti regretted that though the prisoners are on an ongoing six days fast , no Govt.officials have focused their attention on this grave issue.