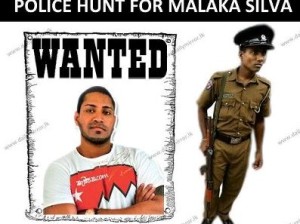 Malaka: in the foot steps of father Minister Mervyn ( cartoon: DM)
Many an eyebrow has been raised in defence circles by the failure on the part of the police to arrest controversial Public Relations Minister Mervyn Silva's son Malaka wanted for his alleged involvement in an incident where two army officers attached to military intelligence were severely assaulted and relieved of a service revolver and a mobile phone at Jaic Hilton in the wee hours of Sunday.
The Major injured in the attack is receiving treatment at the Army Hospital, Colombo.
Police spokesman SSPAjith Rohana said two special police teams had been deployed to arrest Malaka and one of them had visited the suspect's house but he had not been there at that time.

The police were expected to arrest Malaka either last evening or latest by today and drastic action would be taken against the police personnel concerned if they failed to do so, the SSP said.
Malaka is moving about freely surrounded by bodyguards including Ministerial Security Division personnel, according to sources. On Tuesday he visited the Kelaniya Raja Maha Viharaya, paid homage to the Kapilavastu Relics there and walked away despite the presence of 500 Special Task Force (STF) commandos and over 2,000 police personnel providing security to the temple. There were also more than a dozen high ranking police officers overseeing the security operations.
Police spokesman, asked whether there had been 2,500 police men at the Kelaniya temple on the days when the relics exposition was held, answered in the affirmative.
According to highly placed sources, a CCTV footage obtained from the Jaic Hilton security division have corroborated the victims' statement to the police that Malaka de Silva and Rehan Wijerante assaulted them and removed a revolver and a mobile phone.
Asked what action the army had taken in this regard, Acting Military spokesman Brigadier G. V. Ravipriya told The Island that the military investigation would be carried out after the police investigation was over.
By Madura Ranwala
IS