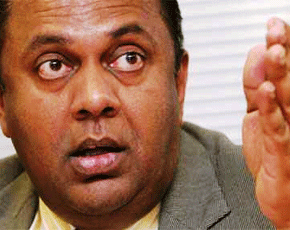 Investigate Sri Lanka – Mangala
(AFP) – Sri Lanka's main opposition party asked the Commonwealth Sunday to investigate the impeachment of the country's chief justice in what it called a breach of the bloc's democratic values.
Opposition spokesman and former foreign minister Mangala Samaraweera urged the group's secretary general Kamelesh Sharma to order his disciplinary body, the Commonwealth Ministerial Action Group, to probe Sri Lanka. Samaraweera released a copy of his letter to Sharma a day after President Mahinda Rajapakse's lawmakers found the nation's first woman chief justice, Shirani Bandaranayake, guilty of three charges of professional misconduct.

The charges have raised international concerns that the government is trying to control the judiciary after crushing Tamil rebels in 2009 and consolidating its hold on power.
"It was becoming increasingly clear that the Rajapakse regime was moving away from Commonwealth values and principles," Samaraweera said in the letter.
The "impeachment process — more akin to a witch trial of the dark ages — unleashed against the chief justice has now exposed the true agenda of the regime at its worst," it said.
The Commonwealth is an association of 54 countries, mainly former British colonies, and includes Sri Lanka.
Opposition seeks Commonwealth probe of Sri Lanka Bandaranayake, 54, walked out of the hearing on Thursday, saying she was not getting a fair trial. The opposition MPs in the impeachment panel joined her in the walkout, but the ruling party went ahead to declare her guilty on Saturday.
The charges on which she was found guilty include failing to declare nine bank accounts and interfering in a case involving a company from which her sister had bought an apartment.
The panel cleared her, however, of stashing away $250,000 in an undeclared bank account.
The chief justice has said there is "not one iota of truth" to the charges.
Under parliamentary procedure, if the chief justice is found guilty of even one charge and a majority of the 225-member house votes for her removal, the president can dismiss her within a month.
The ruling party holds two-thirds of the house.
But the legality of the process used to try to force out Bandaranayake is being challenged before the Supreme Court by the country's Bar Association, which represents nearly all the nation's 11,000 lawyers. aj/sm
LBO