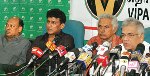 The joint Opposition yesterday called for provincial council elections in the North as a matter of priority. UNP leader Ranil Wickremesinghe, addressing a media briefing of the joint opposition in Colombo, said that the Mahinda Rajapaksa regime was giving lame excuses such as uncleared mines for not giving the Northern people a long overdue opportunity to vote at a major election.

"If the reasons being trotted out are valid, then the question arises as to how elections to local bodies were held there recently," Wickremesinghe said, noting that unless democratic rights of the Northerners were respected with a sense of urgency, there would be no difference between the LTTE under Velupillai Prabhakaran and the government headed by President Mahinda Rajapaksa.Any attempt to use KP in re-establishing Prabhakaran's rule in the North, would be opposed by all democratic forces, he warned.
The haste with which polls were to be held in the East, North-Central and Sabaragamuwa provinces, appeared to be an attempt to circumvent the implementation of the Lessons Learnt and Reconciliation Commission(LLRC), theOpposition Leader said, adding that the government obviously wanted to win by hook or by crook before addressing the issue of re-establishing the independent Public, Police, Elections, Judicial and Bribery and Corruption Commissions, which had been scrapped, in the most unethical manner, by rushing the 18th Amendment through parliament.
Media Minister Keheliya Rambukwella said yesterday that the government would hold polls in the North soon, but there were administrative issues, including the sorting out of electoral registers that needed to be addressed first.
"With the defeat of the LTTE, democracy has been established in the northern province, but all groups in the region need to fall in line," the Minister said.
by Zacki Jabbar
IS