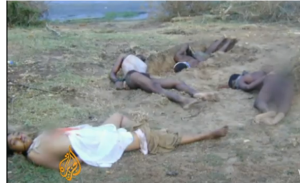 Killed in Vanni 2009 ( screen shot -Aljazeera)
To Leaders of the UNP and the TNA
Ranil Wickramasinghe, MP (Leader of the Opposition),/ R. Sampanthan, MP
As you by now are aware, the "Report of the Secretary-General's Internal Review Panel on United Nations Action in Sri Lanka" date lined November 2012 and released on 14 November, 2012, now accepts the UN has failed in its duty and responsibility, to provide humanitarian access for the UN staff to the people trapped within the conflict zone in the Vanni, the physical delivery of assistance into the conflict zone, and the freedom of movement for populations to reach assistance, all fundamental to the protection of life.

The UN Colombo office, the prime centre in deciding, organising and executing all such humanitarian work, had also failed, or consciously decided against providing all necessary details, information and numbers they had with them on war casualties during the last phase of the war they note as from August 2008 to May 2009, to other UN Agencies, to UNSG and to the public.
The internal review report says, "The UN believed there were up to 350,000 civilians, but in its internal and public statements made references which oscillated between 150,000 and 350,000, and used an assistance-planning figure of 200,000." [2. Humanitarian access and obstructions to humanitarian assistance / No.46 – page 18 ] This leaves a massive deficit of 150,000 human lives unaccounted for. It comes almost close to the 146,679 people missing and unaccounted for, as submitted by Rt. Rev Mannar Bishop, Dr. Rayappu Joseph to the LLRC. In around 2011 May,
Gordon Weiss in his book "The Cage" also made a very ambiguous explanation as to why he is not able to use information he is privy to, as the UN Colombo office decided they would not make them public. He argued it is not proper for him to do so.
Now, it is clear it was not proper for the UN Colombo mission to have kept all the information and numbers they had gathered, under cover. The UN Internal Review now finds fault for all such lapses, giving us the right to now demand all details, information and numbers that were then available with the UN, during the last phase of the war, till May 2009.
I therefore wish to invite you as leaders of the only two political parties represented in parliament that had no direct stake in this regime's war, to make an official request from the UN Secretary General to publish numbers on human casualties due to war during the period August 2008 to May 2009, with all relevant details available with the UN Colombo mission and other UN agencies, with no further delay.
Wish you would accept this request in the name of humanity and decency.
Singed

Kusal Perera