[ You have become a political symbol supporting authoritarian regime]
By Sunanda Deshapriya-
I write this open letter to you as a Sri Lankan journalist and human rights defender in self-exile, pained by the fact that Your Holiness has knowing or unwilling contributed to restrict the democratic rights of Sri Lankan people, to challenge an emerging dictatorship at a most critical time in our country's history. I'm just one of the more than a hundred human rights defenders, journalists and other Sri Lankans who had to leave the country to save our lives during the Rajapakse presidency. Several Catholic priests were also compelled to leave for similar reasons.
I was happy to see a Pope from the country where mothers of Plaza de Mayo waged a courageous battle against a brutal military dictatorship, to find truth and justice for their disappeared family members. I'm sure Your Holiness is aware of mothers crying and struggling to find their disappeared children in Sri Lanka too. The disappeared in Sri Lanka includes also Catholic Priests – including one who is believed to have disappeared for having written a letter to the previous Pope about massacres that happened during the last stage of the war. Coming from a country which has become democratic after a struggle against military dictatorship, I believe Your Holiness values democratic freedoms and the importance of struggles against dictatorships.
My country, Sri Lanka, is on verge of a historic moment in that struggle, a presidential election. A political change is essential if Sri Lankans are to enjoy human rights and most mainstream opposition political parties, civil society have united to defeat the incumbent President and end the slide towards authoritarianism.
But large bill boards displayed across the country of Your Holiness smiling face with the incumbent President seem to imply that Your Holiness is on the opposite side of this struggle for democracy and freedoms. The slogan in some billboards say ''With the blessings of the Your Holiness you (President Rajapakse) will be our President Again''. What a sinful statement is this? Has any other head of state insulted Your Holiness in this manner?
I'm shocked that Sri Lanka government is using your visit to deprive Sri Lankans of proper time period to campaign in the upcoming presidential election, which offers some hope of ending the authoritarianism Sri Lanka has been experiencing last few years. On 25th Nov 2014 Elections Commissioner of Sri Lanka told media that he curtailed the campaign time period of upcoming presidential election to accommodate Pope Francis visit to Sri Lanka. He has decided to hold the presidential election 30 days after the nominations instead of the 42 days allowed by law. This is the lowest time  provided for a presidential election campaign in Sri Lanka.
Although Sri Lanka may appear to be democracy at face value, even the international community knows that Sri Lanka is a semi-dictatorship controlled by President Rajapakse's family. The present Sri Lankan regime has been criticized by the UN secretary general Ban Ki-moon as well as present and past UN Human Rights High Commissioners for variety of reasons, including authoritarian tendencies, series of attacks on religious minorities, attacks on human rights defenders and lack of accountability for very serious allegations of war crimes. Almost all media are under the control of the semi dictatorship and there is heavy self censorship. Websites have been blocked. Even a TV talk show where common opposition presidential candidate participated was blocked by the state agencies.
Today Sri Lanka does not have any mechanism that can ensure free and fair election. Elections Commissioner's office has been made toothless, as noted by the Secretary General of the Commonwealth. The Police department is just a extension of the ruling regime, with Senior Police officers already becoming involved in establishment of campaign offices for the government. The judiciary has become politicized and there is no independent judiciary. Appointments to the Human Rights Commission are made at the whim and fancy of the President. All institutions and mechanisms that are expected to ensure rule of law, democratic governance and ensure checks and balances have been taken under the control of President Rajapakse today. I hope Your Holiness will have a chance to read some of the many reports of the UN and other independent bodies about these issues, before the visit to Sri Lanka.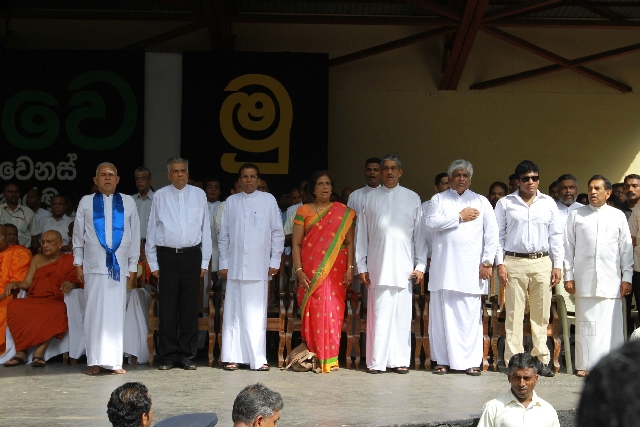 In such a situation it is absolutely essential that democratic opposition gets the maximum time possible for its campaign. The main platform for democratic opposition to wage their campaign is through public meetings. The maximum time provided by law for that is not being made available, citing the dates of Your Holiness visit.
President Rajapakse could have easily ensured a conducive environment for Your Holiness visit. There is no urgency to hold presidential elections. President Rajapaksa still has full two years to complete his second term. He has called a presidential election to contest for a controversial third term only because he thinks he can win if election is held early and it suits astrologer's predictions of a time that's holds good fortune for him. Thus, this election is an attempt to consolidate his and his family's power, and curtail opportunities of the democratic opposition to challenge him.
It has been announced that Preside Rajapaksa personally travelled to Vatican to invite Your Holiness to visit Sri Lanka in January 2014. By that time political circles in Sri Lanka knew that presidential election will be held early January. The official Cabinet Spokesperson for the Rajapakse government had told media that he knows the dates of elections before President Rajapakse met Your Holiness. Even the Election Commissioner has already made unofficial declaration that there will be a national election in early 2015. Did President Rajapakse inform Your Holiness about this impending presidential election when he met Your Holiness?
I think President Rajapakse deliberately didn't mention about the impending presidential elections in order to mislead and trap Your Holiness into supporting his election campaign. He is a master on such manipulations, having recently manipulated the Vice President of South Africa. Your Holiness is the latest such victim. Sections of the Catholic Church leadership that is pro-Rajapakse is also responsible for this situation. Wasn't there Catholic leaders that had blessed, prayed and supported the dictatorial regime that was killing thousands in Your Holiness own country, Argentina?
In short, Your Holiness is being used publicly to support the political campaign to prolong the Presidency of a very authoritarian leader, who together with his family, has clamped down heavily on dissent and ethnic and religious minorities. Your Holiness visit has also been given as the official reason to shorten the campaigning period, which will have a extremely negative effect on democratic campaigns opposing President Rajapakse.
Is it more important for Your Holiness to visit Sri Lanka in January 2015, even at the cost of curtailing the democratic rights of Sri Lanka? From all that you have said and done as Pope, it is difficult for me to think that Your Holiness will want to curtail the democratic campaigning of Sri Lankan people before a critical election. And that Your Holiness would want to be used to support the campaign of one candidate – the incumbent who has shown extremely authoritarian tendencies. But that is what has happened.
I hope Your Holiness will reflect on these before you make a final decision on visiting Sri Lanka in January 2015.
A disappointed citizen of Sri Lanka
Sunanda Deshapriya
©SLB