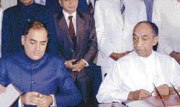 Assuring its fullest support to President Mahinda Rajapaksa's efforts to settle the national issue, the Organization of Professional Associations (OPA) of Sri Lanka has called for the abolition of the 13th Amendment to the Constitution.
The Executive Council of the OPA at a recent meeting has decided that the 13th Amendment was an impediment to the post-war national reconciliation process; therefore it should be done away with.

The OPA came out strongly against devolution on the basis of the 13th Amendment in the wake of a section of the international community pushing the GoSL to implement the recommendations of the Lessons Learnt and Reconciliation Commission (LLRC).
The OPA cited five specific reasons for the abolition of the 13th Amendment. The President of the OPA, architect L.T. Kiringoda alleged that the it was drafted in India even without the knowledge of the Sri Lankan parliament, it was forced upon Sri Lanka, it was the brainchild of the then Indian government influenced by the LTTE, caused colossal loss of funds by forcing the GoSL to establish provincial councils and brought in its wake, political instability.
Responding to a query by The Island, sources pointed out that President Mahinda Rajapaksa had pledged to implement the 13th Amendment, though it ruled out devolving land and police powers to the periphery. Sources said that the government was in the process of receiving the response of UPFA constituents, including the SLFP, to the LLRC recommendations ahead of forthcoming consultations in Washington between External Affairs Minister, Prof. G.L. Peiris and US Secretary of State, Hillary Clinton, on May 18. Among the issues on the table is devolution of power, which the international community asserted was crucial for post-war national reconciliation.
Peiris will leave for Washington on Monday (May 14) after returning from Egypt, where he was attending a NAM conference.
Sources said that the OPA's position would receive the support of those opposed to external interference in the national issue
by Shamindra Ferdinando
IS