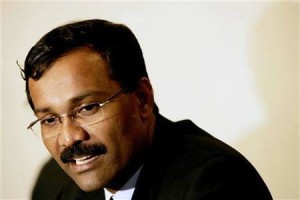 Thamilaselvem: LTTE would prevail (2005) Reuters photo

Bob Rae/ Globe and Mail
There was no doubt among those watching on the ground as the Sri Lankan army carried out its blitzkrieg across the northeast of the island in early 2009. The loss of civilian life would be mammoth, and those killed would, as often as not, be in "safe zones."
In my last meeting with the chief political spokesman for the Liberation Tigers of Tamil Eelam in 2005, there had been an eerie exchange of messages and warnings. S.P. Thamilselvan told me his cause was just and the LTTE would prevail. I told him the international community wanted real negotiations and there were no guarantees that a breakdown of discussions would not lead to renewed conflict.
After the ceasefire collapsed and the Sri Lankan army went on its final, brutal offensive, Mr. Thamilselvan was dead, taken out by a targeted assassination. While the "ceasefire" wasn't formally renounced by the government until 2008, both sides fell back into violence. But the government side would prevail, aided by its size and technology as well as the world's indifference.
A civil war that had lasted, on and off, for 40 years was finally brought to a close by a bloody military assault on the Tiger territory that had been briefly protected by the ceasefire of 2002. The hundreds of thousands of civilians who had returned to the Vanni area with government support found themselves trapped. If they left, they would be shot by government troops and condemned for desertion by the Tigers.
Along with many other international representatives, I had spent many days in Kilinochchi, the Tigers' one-time capital, meeting with political leaders, visiting schools and farms, talking long into the night about the prospects of an elusive peace. But as government forces moved northeast, bombing and occupying Kilinochchi, the civilian Tamil population moved ahead of them, in the tens of thousands, to a tiny strip of land on the coast. Government planes and artillery pounded civilians and hospitals, with nothing but an international "tut-tutting" that the government knew full well would produce no practical reaction from the United Nations and the international community.
The Tigers, for their part, continued to recruit children, denied requests to leave and, by forcing civilians to dig trenches and help their cause, exposed everyone to greater harm. As the UN put it in 2011: "All this was done in a quest to pursue a war that was clearly lost; many civilians were sacrificed on the altar of the LTTE cause and its efforts to preserve its senior leadership."
In a new report, the UN has pointed to its own failures as an organization: It succumbed too easily to pressure from the Sri Lankan government and withdrew observers from the field when it was clear the absence of witnesses allowed both sides to get away with murder.
There were serious efforts to effect a real ceasefire and allow for a surrender, but this was turned down by the Tigers. This has now been documented, both in the new UN report and in Frances Harrison's stirring book Still Counting the Dead. The Sri Lankan government denied entry to Swedish Foreign Minister Carl Bildt, and then to me, by that time a Canadian member of Parliament, to see the refugee camps for ourselves.
The important question now is: Will the UN and its members learn from the tragedy of Sri Lanka or just move on, oblivious? The dead number in the tens of thousands. There is still no accountability in Sri Lanka or internationally. Governments wag their fingers – three years too late – while more tragedies unfold, with no effective response, in Syria and elsewhere.
The League of Nations collapsed because it proved to be irrelevant as Europe descended into a chasm of belligerence and wars of conquest in the 1930s. The humanitarian tragedies of our own time are different, yet the failure of international governance is no less grave. We have laws and rules, but no means of enforcement. We have high ideals, but no apparent capacity for action. We either wring our hands or wash them, blaming others for our own inaction.
It is not simply the United Nations as an institution whose reputation is at stake – it is whether we have the collective means to curtail the violence that poses such a threat to human life in so many corners of the globe.
Let there be no doubt: A sovereign government brutalized and killed its own civilians. Rebel fighters committed their own crimes. No one has been held responsible for what happened. The Tigers paid with their lives. Leaders of the Sri Lankan government believe they have triumphed. Many tens of thousands of lives have been lost. And there is one more tombstone: "Here lies the rule of law."
Bob Rae is Leader of the Liberal Party. From 1999 to 2006, he served as chairman of the Forum of Federations and was an adviser to the Sri Lankan peace process.
Globe and Mail