Image: File photo of beautiful  Austrian countryside © Sunanda Deshapriya.
'Come for Christmas, this invitation is in my heart', Oma said on a day when I was wondering how to spend the December holidays.
It was her grandson who explained to me to get off at the small railway station where she lives, climb the stairs, turn left, cross the bridge and turn right at the filling station on the left.
'Oma' is grandmother in German. She is now 88 years old. Her husband passed ten years ago. Oma is Catholic. She is the Oma of my little friend in Geneva.
Oma's life is a symbol of never giving up hope.
When we went to her place for holidays, we also had with us two friends from Germany who had come to spend the holidays. One of them went into the kitchen and said, 'I know you don't like it, but can I help?' To this, Oma replied with a smile, 'Only when I am old'.
She bought the new Toyota Yaris for 12,000 Euros just three months ago, as her old diesel car she shared with her husband had dilapidated. Her new car shines in bright red.
When driving, she avoids highways. The maximum speed on the national roads that bend through the village is 60 km/h. 'For me, that is the best', she says with a smile. Then she lowers her voice to say 'old, aint I?'. 'Well, in my village I can drive with my eyes closed'. Though Oma calls it a village, she lives in a small town. They even have a national-level football team!
She travels by car at least twice a week to a city 20 miles away. That is to listen to classical music concerts. Oma has a yearly ticket for classical music concerts. She finds music relaxing. She likes Beethoven, 'But there are other talented musicians out there', Oma says happily.
Her son who loved mountain climbing had a fatal fall while climbing at the age of 22. Since her husband went to God's arms 10 years ago, she has been on her own.
When her son and daughter moved to Vienna for further studies, she would still hear the doorbell ringing at two o'clock. That was the time when her children used to come home after school. 'So I started to go out of the house for a walk just before 2 o'clock on weekdays', she recalls.
While we were sitting at the kitchen table having a chat she tells me that she had 52 cousins. She is nostalgic. 'Of my cousins, only five remain. We meet five times a year at each other's homes. I make Nasi Goreng for dinner when they come over. Another cousin makes pizza. Yet another one cooks eels', she explains.
'My week goes fast. On Monday, I am going for a walk with my friend on a hilly road. Tuesday, I go to town for my English class. When it's over, we go out to have some coffee. On Thursdays, the cleaning lady comes. And I go to church on Sunday'.
The lives of the people in this community move according to a plan. By the time spring arrives, Oma places about 200 flowering pots of red and yellow flowers outside the Windows. She replants the 200 pots just in time. They bloom in the spring and begin to die in the autumn before winter. Then she carefully puts away all the pots in the basement.
In the spring, Oma grows beans, carrots, green cabbage, lettuce and tomatoes in her small garden. By the summer they are ready to be harvested. In her front yard, there is a large rose bush and two apple trees. The rose bush is usually covered in the winter with a wire mesh to protect it from heavy snow. Oma stores the apples from her trees in her cool basement. She meticulously and systematically places the apples so that they do not touch each other. This way, apples remain edible throughout the year. 'I only eat an apple for lunch', Oma shares at the dinner table chats.
During our coffee table discussions with me, Oma keeps her German-English dictionary close. She turns to the dictionary for words she does not know in English. This does not happen very often. Oma started studying English when she was 82 years old. She never misses her homework from the English class. Once I asked her why she decided to learn English at this age­­– 'To talk to people like you', Oma says with a smile. After five years of English classes, Oma can communicate with me with ease. Once when we were taking a walk she asks, 'What's the difference between a vacation and a holiday?' She is such a keen student.
In addition to German, she was also fluent in Italian. But now that she rarely uses Italian, she finds it difficult to converse.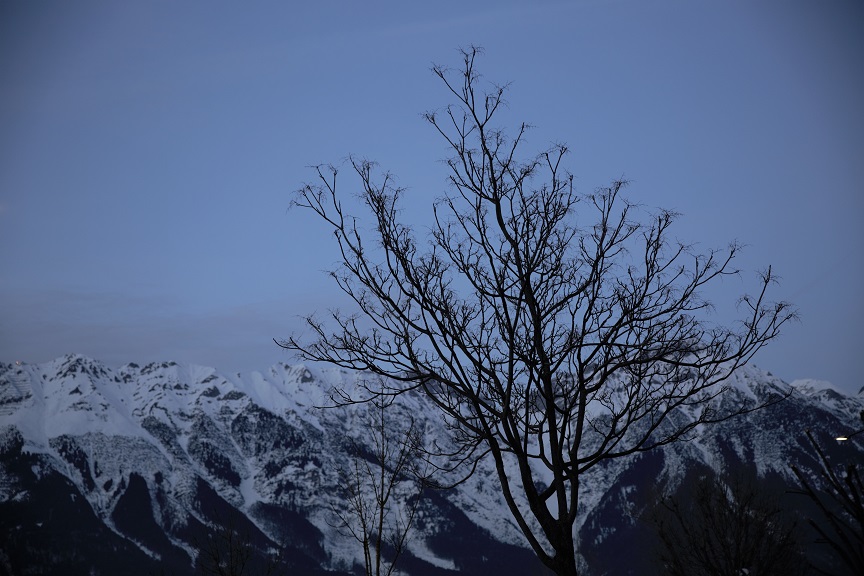 Once I joined Oma for her weekly walk. After about half an hour on the winding road, the road turns hilly. It is beautiful. On one side of the road is the jungle and on the other, fields of vegetables. The walk feels more like sightseeing than walking. I am intrigued by the slightly spoiled leaks, cabbages, and celery that are left behind after the harvest. 'If I lived nearby, I would have come to collect some of this', I think to myself.
We walk for about two hours. There is no stopping through the ups and downs. We say hello to everyone we meet. We go around the hill and come back to the place where Oma parked her car. Throughout the journey, she describes the area and the people who live there. Pointing to a remote village, she explains, 'That is the frontier of Tirol'. Tirol is the province in which Oma lives.
Oma worked at a hospital before she married her husband. But she quit her job to look after the children. However, when she reached the age of retirement, she was informed that she was entitled to a pension from the Government. It was explained that the pension is paid to her to remunerate her work in taking care of two children, her husband, and the home. Since she lives in her own three-story house, her pension is enough for her to have a comfortable life.
Oma spent her school years in the midst of World War II. Once, when we were out for a walk, she took us around the village where her parents lived. She used to walk three kilometers to get to school. Oma showed us the places where she hid when there were bombings.
The day before I wrote this note, she suggested that we go for a walk for two hours as the others in the family had gone skiing. After her husband died, she stopped skiing. The two had met while skiing. When she suddenly stopped on her way down, the snow that was sprayed by her brakes, covered his entire face. It was love at first sight!
On our two-hour walk, we spoke about history. She pointed to the long alpine ridge on the left and said that it is where we live. 'See, we have got good sun over there. Look at how it shines. We find direction by looking at the mountains. Alpine Mountains are of different shapes and heights. The way they get sunlight is also different'.
'Our generation was battered by two world wars. There is no need for another war', she says remembering her friends and family who were taken away by war.
On our two-hour walk, she takes me to the cemetery where her family members rest. Three red roses were still fresh in front of her husband's grave. 'Was it you who placed these?' I ask. 'Yes, his birthday was two weeks ago' she responds with emotion pointing to the birth date engraved on the stone. The quite cemetery stands calmly with the everlasting Alps in its background.
'I want to tell you this', Oma says as we near the bend before the house. 'I went to Vienna for a week last summer. There was a concert by a very famous musician in a church. People of all religions were there to enjoy music. When the priest recited a prayer, people of all religions knelt down. There was pin-drop silence. By the end of our prayers, we all had one God. 'Good music takes us all to a state of meditation. We are all one human race. I felt like the purpose of my visit had come true'.
I still wonder if she was speaking metaphorically.
Long live all Omas!