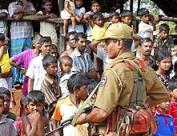 No concrete steps have been taken by the Sri Lankan Government since the report of the Lessons Learnt and Reconciliation Commission (LLRC) was released, Jean Lambert, Chair of the visiting European Parliament Delegation to South Asia, said yesterday, adding that the situation in the island on reconciliation and accountability have "changed little" since a year back.

"So many unanswered question lie about the final stages of the war, about what happened from both sides: the Government of Sri Lanka, and the Liberation Tigers of Tamil Eelam," she said, speaking to Ceylon Today.
"We can't just shelf that," she said, adding that nothing has been provided to the Delegation by the government as a "specific result" of the LLRC's report.
"I would really hope that in the discussions going on with the political parties and the government, this is one of those issues that are prioritized," she added.
"The Minister has said to us that anybody who has acted outside the law should be dealt with appropriately, by the law," she said.
Lambert held a media briefing yesterday in Colombo on the completion of the five-day tour by a delegation from the European Parliament, where she also stressed on the need for the LLRC's report to be available in the local languages.
She added that during the last visit by the delegation, a year ago, the number of long-term detainees was given as 600 by the government, but the delegation was unable to determine the number this year.
By Dinidu de Alwis
"We do know that a national of an EU member state has been detained without charge for over seven years," she said.
During the briefing, she added that there were "many positive things" in the LLRC's report, and commended the government for shifting aid mechanisms from a humanitarian approach to a development-based approach.
"There is however concern that there is minimal grassroots involvement in decision making," she added.
Lambert also stressed the need for political discussion amongst the various political parties, stating "there seems to be consensus among the parties that the issue needs to be dealt with, now it's a matter of sitting down and doing it."