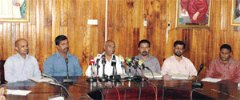 Co-President, University Trade Union Joint Committee (UTUJC) R. M. Chandrapala, (centre) addresses the media with Co-President of the UTUJC P. M. J. R. Fernando, left and secretary, P. H. D. S. Priyantha.

The on-going strike by the university non-academic staff, which entered its ninth consecutive day yesterday, would be called off tomorrow if their salary anomalies were rectified immediately, Co-President of the University Trade Union Joint Committee (UTUJC) R. M. Chandrapala said yesterday.
Addressing the media at the National Library Auditorium, he said that even President Mahinda Rajapaksa was aware of the matter and had allocated sufficient funds through the 2012 budget.
"If the University Grants Commission does not address this issue with immediate effect then universities in Sri Lanka will die a natural death," Co-President of the UTUJC, P. M. J. R. Fernando said. He said university students and teachers would join their struggle as their demands were fair.
In collective agreement signed by Sunil Jayantha Nawaratne on behalf of the Higher Education Ministry in the presence of accountants from the University Grants Commission, the president and officials of the Salaries and Cadres Commission, executive officers of universities and officers of the UTUJC on February 29, the government had agreed to rectify salary anomalies, Chandrapala said.
The UGC had increased the salaries of some top officers by Rs. 5,000 but nothing had been done to rectify the salary anomalies of workers and non-academic staffers, he stressed.
By Madura Ranwala
IS