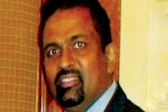 By Gandhya Senanayake
Police yesterday releasing a statement regarding the murder of the Canadian national which occurred on 23 May at 9:30 p.m. in Paranthan, Kilinochchi stated that there was no basis for the alleging any involvement of the police or armed forces in his death.

Earlier a special investigation was launched by the police with several police teams being deployed to the crime scene after the death of Anthonypillai, was reported
When contacted the Police Media Unit said that the police had arrested four suspects including the main suspect wanted in connection with Anthonypillai's murder.
The police had also recovered the laptop and two mobile phones of the victim, while the axe used for the murder along with iron rods, five mobile phones belonging to the suspects and a bicycle, which is believed to have been used in the act, were recovered.
Anthonypillai, who arrived from Canada had visited his native village and started constructing a house in a piece of land he owned, according to the police. It is believed that the suspects had intended to rob him believing that he had a large amount money with him due to the construction of the house.
Investigations are currently underway, while the suspects were scheduled to be produced in the Kilinochchi Courts yesterday.