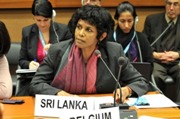 Ambassador Tamara Manimehalai Kunanayakam, presently the Permanent Representative of Sri Lanka Mission in Geneva had categorically stated that she is no more interested in holding any diplomatic position. She said that she is not going to accept the position of Ambassador either to Cuba or Brazil and also not interested in continuing as the Head of the Permanent Mission in Geneva.

When Asian Tribune asked of the compelling reasons behind her decision of not accepting any political appointments in Sri Lanka's diplomatic arena, Tamara Kunanayakamn said because I find that there is a marked change in the international stance of Sri Lanka. She added that Mahinda Chinthana based its international policies on the concept of non-alignment. Now I find that there is a marked diversion away from the non-alignment stance of the government.
She clarified that the original nonaligned concept came into existence during the cold war days and it was not aligned either with USA or with the USSR (Soviet Union). Non Alignment was originally developed in the context of the decolonization struggle by the newly independent states of Africa and Asia which was promoted by late SWRD Bandaranaike at the Colombo Conference. At present I noticed that we have taken another route from our earlier stance of nonalignment.
Kunanayakam was born in Nuwera Eliya and grew up in Colombo, Sri Lanka. Her father was from Chundikuli in Jaffna who was a member of the Lanka Sama Samaja Party and a leader of the Government Clerical Services Union. Her mother was a Tamil from Badulla. Kunanayakam's maternal grandfather Gnanapandithan was a businessman in Badulla who had sympathies for the Ceylon National Congress and the Ceylon independence movement.
Asian Tribune brought to Ambassador Tamara Kunanayakam's notice one paragraph from her letter addressed to Minister Prof. G.L.Pieris, "Removing one of the very few Tamils heading diplomatic missions abroad will allow questioning of the bona fides of the Government's commitment to reconciliation, will reinforce extremist elements on all sides, and validate the argument that mine was only a token appointment."
Asian Triubune pointed out that "It was unfortunate that you have dragged your ethnicity to drive your point."
She responded by saying "K.T.I had nine points in that letter addressed to the External Affairs Minister Prof. G.L. Pieris. I wish to assure you that I was not responsible for leaking that letter to anyone. I will never make that letter public because I have stated in that letter what HE has told me.
She said that she was interviewed only by two journalists, namely Namini Wijedasa from Lakbima and from Ayesha Zuhair of Daily Mirror only about the UN Human Right Council and not at any time about the letter.
She said that her letter must have been leaked to press may be from Colombo only. I have not leaked it to the press. Leaking that letter was not in my interest.
She further said that regarding the ethnicity issue in my letter it was written to bring to the notice that it could be interpreted like that. In that letter I have said many things and in the conclusion I have said that this would convey a wrong message and that is why I am not accepting my posting either to Brazil or to Cuba.
"I have pointed out that the nonaligned countries might interpret that we are now aligned with the America. I have also said that I always consider myself as a Sri Lankan but others might interpret, that I have been edged out because of my ethnicity."
She also said "I learnt that HE was of the opinion that I was the person who was responsible for leaking that letter and I learnt that he has said that, "he never thought she was a Tamil and did not offer her a diplomatic position because she is a Tamil. "
Also I think you would have known K.T., that I have never said that I was a Tamil on any occasion during the Council session.
Ambassador went on to say, "Furthermore the letter is not meant to be a public letter. I wrote that letter to the External Affairs Minister. Someone in Colombo has publicized it and I was not responsible for that.
I have greatest regard and respect for President Mahinda Rajapaksa. I always followed his instruction to the very letter. On the day before the vote, I talked to him at 2 AM Sri Lanka time to confirm instructions whether we should go for a vote. It was President who gave me an opportunity to for work for my people and my country.
In conclusion I wish to say that I am not interested in continuing with any political appointment and accept any diplomatic postings.
But I must also say that I am of the opinion that Americans are not happy with me. I think they might be behind me being pushed out of Geneva. It is only my guess and I also knew that some anti-patriotic groups in Sri Lanka were also after my blood.
Ambassador Kunanayakam said that United States Ambassador for Human Rights Council, Eileen Chamberlain Donahue, when contacted told me that she is not interested in meeting with me as US is meeting bilaterally with our Mission in Washington.
Later she contacted me and said during September 2011 UN Human Rights Council session that there was a resolution about an interactive dialogue. She spokes with me on the day before the resolution to be sponsored by Canada at the UN Human Rights Council. She told me over the telephone that "Whether or not the LLRC report is good, "we will get you next time."
You may remember during those days our argument was that our LLRC report will be out by November 2011 and that is why she said that.
Tamara Kunanayakam said She called and spoke to me on the very night the Canadian received instruction to present the resolution against Sri Lanka. That time though US was in the forefront against Sri Lanka the resolution was sponsored by the Canadians.
Eileen Chamberlain Donahue in her telephone call to me said another country is going to present the resolution against Sri Lanka and also said that they can't stop them. Through that call she gave us a last chance to accept the interactive dialogue or not. She said if you are not going to accept the interactive dialogue there is going to be another country that is going to present the resolution.
But within one hour of presenting the resolution, Canada withdrew it as there was not enough support. K.T. we must understand that American normally will not present resolutions if they feel that there is not enough support for them.
Now the Sri Lankan Government says forget about Africa, forget about Latin America and now we have to stop Washington. But I for one can't compromise Sri Lanka's Independence and sovereignty. I maintained that the real objective of America's diabolic campaign is 'regime change'.
Tamara Kunanayakam, Sri Lankan diplomat currently the Permanent Representative of Sri Lanka to the United Nations Office at Geneva and Sri Lankan Ambassador to Holy See said, "I also have my credibility to defend the vis –s- vis the people of Sri Lanka who supported me and the diplomats in Geneva from Asia, Africa and Latin America who believed in me and stood by me. "
By K.T.Rajasingham