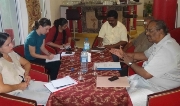 Mawai Senathiraja making a point
Tamil National Alliance informed Australian High Commissioner that there was no more implemented in the country since the resolution pass against the SriLanka at the United Nation. They also noted number of military activities and interference increased in the Northern Province by day today basis.

TNA parliamentarians Sivananam Sridharan, Mawai Senathiraja and ITK deputy general secretary C.V.K.Sivananam met Australian High Commissioner Robyn Mudie at Jaffna today.
During the time of discussion parliamentarians went on to say, SriLankan government fails to reduce number of military personals from Jaffna district. They fail to evacuate Army camps and also fail to establish police administration in the province. Military personals always interfere in to day today activities of civilians in the province.
We are unable to file complaints in the Tamil language at police station. Government fail to resettle people displaced from Mullaitivu, Killinochchie, Waligamam North and West areas.
Group of Mullaitivu people were currently residing at Settikulam area. People who take for the resettlement were also staying at Mullaitivu camp.
Since end of the war government fail to establish civil administration in these areas. During the discussions with the government they promised to announce the names of Tamil prisoners detained in the various prisons in the country but they have cheated us and fail to announce the names.
According to the sources 58 Tamil prisoners were detained in the Hegelian prison in Australia. We urge the help of Australian government to rejoin them towards society.
Australian government need to increase its development and financial supports through Australian organizations for people in the Vanni district.
Parliamentarians also brief about the stance of the Tamil National Alliance on political solution for Tamil people of this country.
LS