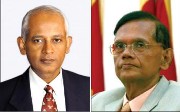 Weerathunga and Peiris
Neither an Action Plan nor a formal document was handed over to US Secretary of State, Hillary Clinton when a Sri Lanka delegation headed by External Affairs Minister, G.L. Peiris, held bi-lateral talks in Washington on May 18.

The only exception, the Sunday Times learnt, was an aide memoire explaining some statistical information. The term is used to refer to notes, or memoranda, that are taken in order to jog one's memory later.
The aide memoire contained details about the number of Liberation Tigers of Tamil Eelam (LTTE) child combatants rehabilitated (64 per cent), the extent by which High Security Zones in the north have been reduced (70 per cent), re-settlement of displaced and other similar details.
Peiris briefed Clinton and her officials on the government's approach. He said that some of the recommendations of the LLRC have been implemented whilst others are being done. Some of those which have not been implemented would be identified on the basis of their priority. An official committee headed by Presidential Secretary Lalith Weeratunga, will now function under the Presidential Secretariat, he said, and it would be responsible for this.
Notwithstanding this, the government will go ahead with the formulation of the Action Plan. This is when constituent parties of the UPFA agree on which of the LLRC recommendations awaiting implementation should be taken up first. From this, the official committee will select recommendations for immediate implementation.
Earlier, as exclusively revealed in the Sunday Times (political commentary), Peiris had wanted an Action Plan formulated. He wanted it to remain a secret until bi-lateral talks with Clinton concluded. For this purpose, constituent parties of the UPFA were given a document listing those recommendations being implemented and those that required implementation. Their delayed responses put paid to the formulation of the secret Action Plan. Clinton was to remind Peiris and members of his delegation that such a plan has to be transparent and the public should be informed.
Lalith Weeratunga said, "Madam Secretary, there are 285 recommendations in the LLRC. Some can be implemented." He said he was speaking as the senior most public service official.
Clinton said she appreciated that the government of Sri Lanka was making a "good start."
Weeratunga also said that the translation of the LLRC report into Sinhala and Tamil was being entrusted to the Central Bank. This is because they had both the expertise and the staff. They were capable of translating even complex financial data.
Clinton made some reference to the US-backed resolution passed at the UN Human Rights Council in Geneva in March. Two key elements in the resolution were to implement "constructive" recommendations in the LLRC report and for Sri Lanka to formulate an Action Plan "as expeditiously as possible." The third was to obtain advice from the office of the UN High Commissioner for Human Rights. Our front page report today reveals latest developments in this regard.
form The Political column of The Sunday Times