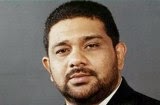 Azath Salley
Australian PM can witness peacefulness if he visits Darga Town – Salley
Leader of the National Unity Front, Azath Salley today claimed that the government is afraid it will lose its voter base if the Pope visits the war-affected Northern Province, during his scheduled visit to Sri Lanka. The Central Provincial Council member made these comments during a press conference in Colombo today, which was also attended by UNP MP Mangala Samaraweera and former Minister Hemakumara Nanayakkara.
Speaking regarding the Sri Lankan asylum seeker boat which was reportedly stranded at seas off Christmas Island and had relatively disappeared, Salley said he suspects the Australian Prime Minister Tony Abbott may also be involved as he always praises the Sri Lankan government.
He stated that if the Australian PM, who had recently said Sri Lanka is a society at peace, will be able to witness the peacefulness if he visits Darga Town.
Salley further said that he had submitted 284 complaints to the special police unit established to deal with complaints related to religious issues and that none of them have been investigated.
He also inquired why the Ravana Balaya organization, which had called for the dissolving of the police unit before Poson Poya, are now remaining silent.