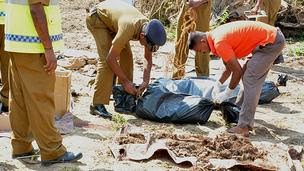 unearthed bodies of Mullaitivu mass grave
Reuters
Nine bodies, most of them women, have been found in a mass grave in Sri Lanka in the area where the last, bloody battle of a 26-year war with Tamil separatists was fought in 2009. International pressure is growing on Sri Lanka's government to address allegations that tens of thousands of civilians were killed by the army in the final weeks of the war. The United States plans to put forward a resolution criticizing Sri Lanka at this month's session of the U.N. Human Rights Council, and U.S. officials have said it may call for an international investigation.

A U.N. panel has said around 40,000 mainly Tamil civilians died in the final few months of the war and that, although both sides committed atrocities, most were killed by army shelling. Sri Lanka disputes the figure and the conclusion.
Local residents told Reuters by phone that the mass grave was found last week when a tractor was ploughing farmland in the northerly district of Mullaitivu.
"We have found nine skeletons of mostly women with burn injuries," acting judicial medical officer Sinnaiyah Sivaruban told Reuters.
"Three local people have said the bodies were dumped in this land on February 9, 2009, after they were killed in an army multi-barrel shell attack, and that there is another mass grave 200 meters from this. But we don't know the truth."
Thurairasa Raviharan, a provincial councilor in Mullaitivu from the Tamil National Alliance – once the political proxy of the now-defeated Liberation Tigers of Tamil Eelam (LTTE) – said residents believed there could be many mass graves in the area.
However, both police and the military rejected the claims and said a proper investigation was under way.
"There is no factual basis for such conclusions and we reject these false and misleading allegations," military spokesman Ruwan Wanigasooriya said. "It is deplorable that such premature conclusions are drawn without allowing the investigations to proceed without hindrance."
National police spokesman Ajith Rohana said a witness had testified that the LTTE dumped the bodies in the area in 2009.
Last year, Sri Lanka set up a presidential commission to investigate a grave with the remains of more than 150 people in a central province. The evidence was sent to China for forensic investigations, but so far there has been no conclusion.
U.N. human rights chief Navi Pillay said last week that the government had failed to do its own credible investigations and there had been little progress in establishing accountability for "emblematic" wartime crimes.
Sunday Times