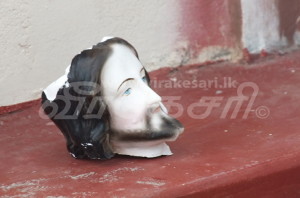 St. Francis Xavier's Catholic Church – Angulana belonging to the Rawatawatta Parish had been attacked and desecrated the church by a group of unknown persons at night on 05th June 2013
Also on 05th June 2013, some unknown persons have removed and smashed the Sacred Heart statue at the Maniyanthottam, in the Parish of Passaiyoor in Jaffna.

The unknown group had forcefully removed the tabernacle from the sanctuary of Angulana Church, broken it open and had tried to burn the Holy Communion ( consecrated Hosts ) by pouring kerosene oil on it. However over 30 lit soaked matches were found in Tabernacle which has miraculously refused to catch fire. The group had also destroyed the historical statues of the church which was present at the first church 143 years ago while also destroying statues of the Blessed Mother. They had also destroyed the church sound system connections. Upon witnessing the incident the sacristan had rung the church bell to call on the people of the area.
Parish Priest Rev. Fr. Christo Viraj Fernando and Assistant Parish Priest Rev. Fr. Kasun Fernando had requested all the Parishioners to keep clam and to conducted penitential services, asking God's forgiveness for the desecration of Holy Communion and the consecrated House of God.
Under the instructions of His Eminence Most Rev. Dr. Malcolm Cardinal Ranjith, the Blessed Sacrament was removed and church will remain closed to conduct further investigations of the incident. Due to the desecration of the church, a special service will be conducted by His Eminence before the church will be reopened.
The Angulana Police is conducting investigations together with a special police task force and security to the church premises has been provided.
[ Fr.Sunil De Silva – 07.06.2013 ]