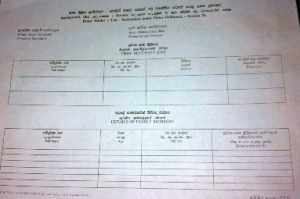 Police are circulating the attached form in Jaffna with instructions to fill and hand over to the Grama Sevaka by tomorrow. The image of the form attached is the one that was delivered at xxxx home in Nallur.
I suppose it is being given around everywhere in Jaffna (and possibly in the Vanni). As before under the ER we have been asked to retain a copy of the form so that it can be shown when demanded. This time the legal basis for seeking the info is said to be provided by section 76 of the Police Ordinance.
Section 76 reads as follows: ( http://www.lawnet.lk/sec_process.php?chapterid=2001Y2V53C&sectionno=76&title=%20POLICE%20&path=5 )
"Every householder within such town and limits shall furnish the officer of police of his division, when required so to do by such officer under the order received to that effect from any Magistrate having jurisdiction within such town and limits, or from the Inspector-General of Police, with a list of all the inmates of his house, distinguishing the members of his family from the servants or others resident therein ; and he shall also, if it shall be so directed in the order of the Inspector-General of Police or Magistrate report any increase or diminution, or change in the same ; and he shall not, having received such notice under such order, harbour a stranger without giving such notice thereof to the principal officer of police of his division ; and every person failing in any duty imposed upon him by this clause shall be guilty of an offence, and be liable to any fine not exceeding fifty rupees".