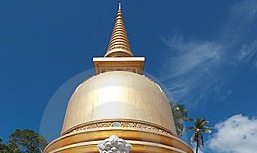 file photo
A Buddhist Vihara has been constructed in Pachchanoor, a village in Moothoor DS division of Trincomalee district, by the Colombo government and its Sinhala Buddhist clergy with the backing of the occupying Sri Lanka Army under the patronage of the SL presidential sibling and Defence Secretary Gotabhaya Rajapaksa, news sources in Moothoor said.

Pachchanoor, which has traditionally been populated by Tamil speaking people, is situated on Moothoor-Verukal Road, 5 km south of Trincomalee city, near 3rd Mile Post in Pachchanoor, where only six Sinhala families were living before 2009.
After the conclusion of the war, around 110 Sinhala families were brought from the South. They were given lands which had been appropriated from the Tamils by the occupying SL military.
A Sinhala Buddhist school was established in Pachchanoor for Grade-1 children of the settlers.
Preparations are also under way to bring more Sinhala settlers from the South as Colombo was stepping up the Sinhala colonisation schemes in the district with the aim of changing the demographic composition of the district.
The Colombo Establishment has been appropriating lands belonging to Tamil and Muslim communities in several parts of Trincomalee district to create new Sinhala villages. Civil activists in the district complain that many Buddhist Vihares have been set up in recent times under the guise of reconstruction and development.
The Sinhala military has been planting Bo-saplings at several localities in the district throughout the years of its occupation. In the meantime, the SL Defence Secretary has gone on record saying that lands with Bo trees were to be regarded as 'ancient Buddhist sites'.