The exercise of sending ex-militants to rehabilitation again was begun by the Defense Ministry in Batticaloa at the beginning of this month (February 13th 2013). And under this so far six people have been arrested from Mandur, Kathiraveli, Mangkeni and Naasiventhivu and sent to the Boosa Detention Camp.
When their relatives were thus arrested, family members immediately reported to the Human Rights Commission and parliamentary members.
Speaking on the issue of the arrests of former LTTE cadres, Military Spokesperson, Brigadier Ruwan Wanigasooriya said recently to the media that, it was not only in the Eastern Province but in any place in the country where there are former members of the LTTE who had not been sent to rehabilitation, they will be subjected to formal rehabilitation processes. Particularly those who had been identified as a security threat to the society by other former LTTE cadres, will be subjected to rehabilitation, Brigadier Ruwan Wanigasooriya said.
Family members have complained to Tamil National Alliance (TNA) Member of Parliament Seenithanby Yogeswaran on the 14th of February 2013, that some who had been suspected to be former LTTE members from Vaharai Batticaloa, had been taken in for questioning by the Terrorist Investigation Department (TID), on the 13th of February 2013.
The relatives told the Parliamentarian that the people were arrested and taken away by some men who came in civilian clothes, who also produced the necessary identification and warrant for arrest.
A mother of two children who spoke said:
"My husband joined the LTTE in 2002 and had left the organization by 2004. And in 2008 he married me and we have lived together since then. He is a labourer. Over the last year (2012), men in plainclothes, claiming to be part of the Criminal Investigation Department, came over to the house regularly to take his picture and to question him. They also told us not to be alarmed at this time."
"On the 13th of February 2013 when my husband was having his lunch, two men in plainclothes arrived in motorcycles and asked him to come to the Police Investigative Department to give his signature. After finishing his meal my husband went there. Then over the telephone he told me that he was asked to deliver his bicycle home and he was not released that day. The following day, on Thursday, when my husband spoke to me, he asked me to bring his clothes to the main street. Since my house is situated in a by lane, by the time I reached there I found that his sister who lived on the main street had been seen crying next to a vehicle that had brought him. The vehicle had subsequently left. When I asked those who had arrested him why my husband had been arrested I was informed that he was a former member of the Sea Tigers unit and that he must be investigated and that I could see him in the Boosa camp. I related to them that I was very poor and had no ability to get help other than from my husband."
But this is the state of many of the families where family members have been arrested.
Parliamentarian Seenithamby Yogeswaran says:
"It cannot be considered justice to arrest those who have long ago returned to normal civilian life. It is because of these pressures that they are forced to try to illegally travel to countries like Australia. Two weeks ago, 6 people from Muthur were taken away for the same reason. Our party leader R. Sampanthan has asked for the details from our members of Parliament. And at the same time if those involved are ready to come forward, we are willing to file a court case for them."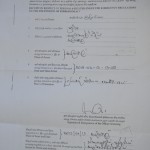 Receipt in respect of persons arrested under the ER or the PTA on the 13th of February
Those former militants who had earlier been part of the LTTE and left it a while ago, and had been over the past years involved in civilian life, such as Vijayaratnam Nesaraja from Mandur, Nalathamby Navarajan from Valaichennai, Nalathamby Mahendran from Nasiven Theevu and Pathakutti Ganesh & Mahendran Sri dharan from Mangeni and Thavaraja Uthayan from Kayonkenni, were recently arrested in Batticaloa.
The arrest of people who are now married and settled, who had been previously part of the LTTE many years ago, has created a lot of confusion in Batticaloa.
The revival of arrests of ex- cadres based on information given by other LTTE cadres have created a lot of fear among the people. There are approximately 3000 former combatants in both Batticaloa and Ampara districts who had not been sent for rehabilitation previously. And since the Army has announced recently that all cadres will be arrested and sent to the detention centre, people now live in great fear. And at the same time, since some of the cadres who had just returned home to Ampara from their rehabilitatio had also been re-arrested this has created even greater confusion.
Parents of former militants say that their children who had been rehabilitated in the Batticaloa and Ampara districts and released are still harassed many times by those in military uniform. And this causes them a great deal of worry as they do not know how to protect their children.
The relatives state that a special group from Colombo had come to investigate these people and had questioned them over many days and taken information. And on Tuesday the 12th of February, they had been all assembled at the Muthur Police station and had been taken away in a bus. At the same time, the Batticaloa District officer of Sri Lanka's Human Rights Commission, E. Manokaran, in an interview with me stated that former LTTE members in Vaharai had been arrested as well. When speaking on this issue he said, "These detainees had been given receipts from the Terrorism Investigation Department (TID). Even then, it is written in Sinhala and the relatives continue to face many difficulties. We have received news that one person from Vaharai and one person from Mankulam have been arrested. They have been arrested with the assistance of the Police in those areas. The forms claim that the arrests have been made by the TID and there is an address from Colombo provided. All the receipts are in Sinhala. And so the family members of those arrested have found it very difficult."
The TID has announced that those in Batticaloa district who were former LTTE cadres who had not been subjected to rehabilitation will be sent for rehabilitation. Following the arrests in Batticaloa district and the confusion that resulted from this, no further arrests have been made at the time of reporting.
(Original in Tamil)