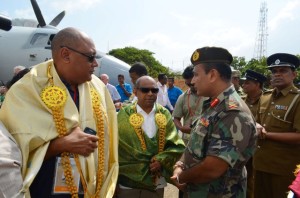 CPA delegation: with military leaders in Jaffna
General Secretary of the Commonwealth Parliamentary Association Dr. William F. Shija who led a delegation to Jaffna said yesterday that he had really had a change of his negative perception of Sri Lanka after visiting the war affected area.
Dr. Shija, after concluding the observation tour in the north, told Daily Mirror that the international media had painted a negative picture of Sri Lanka to the effect that nothing had been done about the rehabilitation and reconstruction of the war affected areas.

However, he said, though the scars of destruction were still visible, a great deal of development work had been done to resuscitate the economy of people.
Dr. Shija was one of over 50 delegates representing various parliaments and state assemblies, who participated in a state-sponsored programme to observe the development projects and to meet resettled people in Jaffna and Kilinochchi.
"The Kilinochchi Brigade Commander explained to us how the entire population of that district was displaced due to the war over a couple of years ago. Now, almost all of them have been resettled. We wish best of luck for peace and prosperity in Sri Lanka," he said.
Commenting on the development work, he said that infrastructure development was a key to peace and unity.
"The international media, as you know as journalists, has given a negative picture as if nothing has been done. But, a lot of work has been done," he said.
He added that the CPA was ready to share with Sri Lanka the experiences of member states, in bringing about reconciliation.
Hamad Rashid Mohamed, a Parliamentarian from Tanzania, said the international community should recognise the work done by the government of Sri Lanka, and continue to help. Mr. Rashid, who is also the representative of the Inter Parliamentary Union for Africa, said that he was impressed by the achievement of Sri Lanka in sectors such as health and education. Hugh Bayley, a British Labour Party MP, said he was relieved about the end of war.
"It is commendable that the government has invested a lot in infrastructure development. It will help improve the quality of life of the people," he said.(Kelum Bandara in Jaffna)
http://www.dailymirror.lk/news/21899-negative-perception-was-changed-cwealth.html