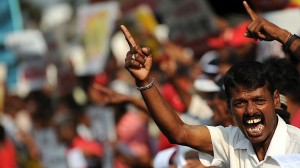 Protest against appendices in Colombo ( BBC photo)
The two officials from the office of United Nations Human Rights High Commissioner Navi Pillay inquired from the Sri Lanka Human Rights Commission (SLHRC) about complaints regarding witness protection and disappearances in Sri Lanka, officials said yesterday.
The two officials Hanny Megally and Oscar Solera met the SLHRC officials yesterday morning.
According to Dr. Pratiba Mahanama, a commissioner of SLHRC, they had come for the assessment of human rights situation and the implementation of recommendations by the Lessons Learnt and Reconciliation Commission (LLRC).

Dr. Mahanama told the Daily Mirror that the SLHRC briefed them about measures taken to enact the Witness Protection Bill in Parliament within the next three months. Regarding their inquiry about disappearances, he said there had been 37 cases of disappearances, 19 white van abductions between January, 2012 and August 13, 2012, and investigations were in progress into them.
"We received three other cases of disappearances. Later, we found that these persons had illegally migrated to some western countries. Another complaint lodged with us was withdrawn later," he said. He said, "They never asked us about statistics. They only asked about complaints regarding disappearances."
He said that these officials would submit a report to Ms. Pillay, who would later furnish a report to be presented at the next session of the United Nations Human Rights Council in March, 2013.
The two officials also inquired into the complaints about the stifling of media freedom. "They categorically informed us that they are never here for any investigation or on a fact finding mission. They will only assess the development of human rights situation," he said.
BY KELUM BANDARA
Source: Daily Mirror – Sri Lanka