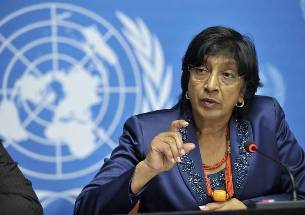 United Nations High Commissioner for Human Rights Navi Pillay will visit Sri Lanka to assess the steps taken by the government of Sri Lanka to implement the recommendations of the Lessons Learnt and Reconciliation Commission (LLRC), said External Affairs Minister Prof. G.L. Peiris in Parliament yesterday.
During the debate on the action plan for the implementation of the LLRC recommendations, the minister said an official from Ms. Pillay's office would arrive in the country soon to lay the groundwork for her visit.
He said the government had invited her to visit Sri Lanka a long time ago, but that she had wanted to wait until the LLRC report had been submitted.
He said she would be given a chance to visit the length and breadth of the country to see for herself the progress made.
Asserting that the government had nothing to hide, the minister said the negative impression of Sri Lanka in certain quarters of the international arena could be corrected by opening up the country's situation to more and more people who are interested in the Sri Lankan issue.
Referring to the political solution, Prof. Peiris asked the Tamil National Alliance (TNA) to join the proposed parliamentary select committee to make a new start. The minister asked the TNA leadership not to dwell on the past, but to look for a way forward for the greater good of the country. He reiterated that the international community had neither the desire nor the capacity to impose a solution on Sri Lanka. Also, he noted that India had stated categorically on several occasions that it would not try to impose a political solution on Sri Lanka.
TNA MP M.A. Sumanthiran scoffed at Minister Peiris' appeal to forget the past, and called it a ridiculous idea. Mr. Sumanthiran said that so many assurances given by the government would have to be forgotten to accept this suggestion.
BY KELUM BANDARA AND YOHAN PERERA
Aug 23, 2012
Source: Daily Mirror – Sri Lanka