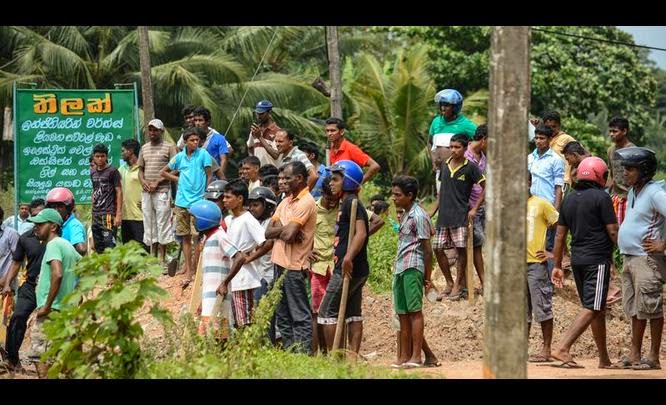 Mob waiting to attack (Al Jazeera)
Sinhala Buddhist monks accused of leading attacks in coastal towns of Aluthgama and Beruwala.
At least three people have been killed and more than 80 people injured in overnight mob attacks led by Sinhala Buddhist monks in two coastal Sri Lankan towns, according to medics.
Also known as the Bodu Bala Sena, is led by Galagoda Atthe Gnanasara, who issued threats to destroy Muslim businesses before the riots.
The group said its mission is to "save the Sinhala race", which makes up 74 percent of the population.
In 2013, the group was linked to an attack on a mosque in a Colombo suburb, where four people were injured.
The group has also launched an anti-halal campaign and protested against veils on Muslims.
Over 1,000 Sri Lankan army have been deployed on Monday in the popular resort towns of Aluthgama and Beruwala, and police extended a curfew after Muslim properties and mosques came under attack. Violence also spread to Lathugana town.
Police said they fired tear gas and widened the curfew to Beruwala, a predominantly Muslim area, after initial violence broke out in Aluthgama, 60km south of the capital Colombo.
Both areas are popular beach resorts frequented by international tourists, but there were no reports of any foreigners caught up in the violence.
Hilmy Ahmed, the spokesman of Muslim Council of Sri Lanka, told Al Jazeera that the situation was calmer now, but there was large-scale destruction of property.
"At least nine shops and up to 40 houses have been gutted in Aluthgama, while three mosques were attacked," Ahmed said over phone from southern Sri Lanka.
The army has been brought in to control the situation, while the injured have been admitted to hospitals.
Escalating clashes
A police spokesman said trouble began on Sunday evening when members of Bodu Bala Sena, or Buddhist Force tried to march in an area with a sizeable population of Muslims.
Justice Minister Rauff Hakeem accused his own government of failing to protect Muslims from the mob led by monks from BBBS, which has been engaged in an anti-Muslim campaign in recent years.
Hakeem urged "all relevant parties to remain calm and not to instigate further violence".
"Please let the police do their job. The attacks last night will not be tolerated and we will prosecute any and all responsible," he told Al Jazeera.
At one point elite police commandos were called upon to rescue a deputy minister, Faiser Mustapha, who was trapped inside a school along with dozens of Muslims who fled their homes fearing attacks from angry Buddhist mobs.
"Some Buddhists are deliberately targeting Muslims. But unfortunately police have not been able to protect the minorities," the Muslim Council's Ahmed earlier told Al Jazeera.
"A petty feud between two individuals has been allowed to take a religious tone. The extremist Buddhists led by BBS attacked Muslims and are still in the area despite the curfew."
President's appeal
A spokesman for Bodu Bala Sena could not immediately be reached for comment. The group said representatives would meet with reporters later on Monday to clarify its position.
Q&A with Bodu Bala Sena Spokesman
President Mahinda Rajapaksa, who is currently visiting Bolivia, said he would not allow "anyone to take the law into their own hands".
"An investigation will be held for … to bring to book those responsible for incidents in Alutgama," he said on Twitter .
"I urge all parties concerned to act with restraint."
There were no reports of arrests, as people in the riot-hit areas said Muslims were leaving their homes and seeking shelter in community centres as fears of more violence lurked.
The latest unrest came just weeks after Muslim politicians asked Rajapaksa to protect their minority community from "Buddhist extremist elements" blamed for a recent spate of hate attacks.
Nationalist Buddhist groups have in turn accused religious minorities of wielding undue political and economic influence on the island.
Additional reporting by Saif Khalid and Dinouk Colombage