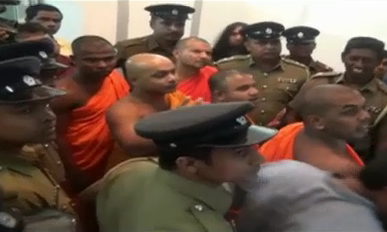 BBS monksstormed Minister Rishad Bathiudeen's offcie
A statement issued by General Secretary, All Ceylon Jamiyathul Ulama, Ash Sheikh M. M. A. Mubarak
All Ceylon Jamiyathul Ulama conveys its sincere thanks to the Sri Lankan Muslim community for abiding by the guidance provided by our organizing in the past period when various adversities were lobbed at them. We also congratulate the Lankan Muslims for acting in the most pleasant and judicious manner with forbearance thus contributing to preserve peace and harmony in our Motherland.
ACJU once again reminds our people that we should always turn towards the teachings of the Holy Qur'an and exemplary ways of our beloved Prophet (Sal) and his Companions for solutions for any and every crisis that come our way.
Sri Lanka Muslims have a historic reputation as an uncomplicated ethnic group that exists congenially with all the communities that live in this country and as an affable religious minority that always gives prominence for national welfare, unity and harmony. ACJU asserts the importance of steadfastly maintaining that good repute, especially in these turbulence times when we have become a chosen target for provocation.
Muslims are pointedly proscribed from insulting other faiths and the Holy Qur'an enjoins as follows in this regard:
'And insult not those whom they (disbelievers) worship besides Allah, lest they insult Allah wrongfully without knowledge'
-Sura Al An Aam 108
However, Muslims have become more hurt by the latest stunt of the Bodu Bala Sena organization, in which it has started to make horrendous remarks against the Holy Qur'an by misinterpreting its commands and spitefully commenting on its verses out of context.
Along with other false allegations that could be disproved in no time, the BBS propagates that there is a concept in Islam called 'Thaqiya' as facilitated by the Holy Qur'an which allows Muslims to defraud people of other faiths and that makes lawful for Muslims to acquire properties and wealth of non Muslims by cheating them. This incredulous allegation have deeply disturbed the local Muslims and it might agitate global Muslims as well which is not going to profit our country in anyway. Especially in these times when the entire world is scrutinizing us.
We are hoping to soon secure an audience with His Excellency Mahinda Rajapaksa as well as one with Ven. Chief Prelate of the Asgiri Chapter to make an appeal in this regard with the ultimate hope that necessary steps would be taken to put an end to these atrocities that clearly have surpassed all the limits.
In the meantime, we call our community to continue to be patient and prudent in these chaotic times as certain evil elements eagerly watch for a single slip from our side to ignite nationwide mayhem. We also request Muslims to make additional supplication to Almighty Allah, soon after the forthcoming Jumu'a Prayer to bring about lasting peace and unity to our country.
Ash Sheikh M. M. A. Mubarak
General Secretary, All Ceylon Jamiyyathul Ulama
Photo: scrreen shot BBC sandeshaya Video