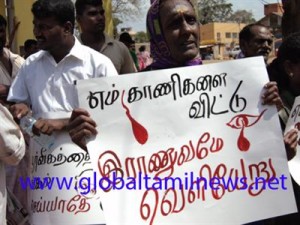 People protest militarisation
A new housing project by the name of 'War Housing Project' is coming up in the new Murikandy area which has been acquired by the security forces.
Thousands of soldier families from the South are to be settled in this housing scheme on the 11th of February, according to news reaching GTN.
New schools and hospitals are fast coming up in this area where the housing project is constructed.

Efforts to confirm this shocking news was made, but of no avail.
The people of Murikandy fought back violently when their lands were invaded and acquired by force. Each family who resided there was given ¼ of an acre and the land adjoining the jungle in the back was taken for the above housing project.
Orders for this distribution of this and was made by the Governor of the Northern Province G.A Chandrasiri. The Governor is said to have used the funds allocated for the development of Tamil schools and the hospitals for the above housing scheme.
An housing scheme was constructed in the area for the last three years with the help of the Chinese government. For whom, are these houses? Was a question that was asked in every circle, but with no answer? But now it has become known that the new scheme coming up in the name of 'War housing scheme' was meant for the families of the soldiers
About 10 thousand houses have been constructed in the housing scheme fast coming up and road ways leading to the scheme have also come up.
A new road that has been constructed in that area connects with Weli-oya and a road from Murikandy town leads to the above scheme as well.
The families of the soldiers are to construct farms in the fertile soil of the area, while the people who were living there have been chased away and are now found refuge in camps and in friends' houses.
When the army forced the people to roam about for more than three years, people rallied against. These people were brought up from the refugee camps in the guise of resettlement and their lands were forcibly acquired and the people were sent to Manic farm.
The army promised that the lands will be given back to the people but that never happened and instead more areas were acquired and a Sinhala settlement was constructed.
The people were shocked at what had happened and demanded the authorities to stop the Sinhala settlement coming up in their area.
In the meantime sources from the defense circle say that the President Mahinda Rajapakse and the Secretary of the Defense Ministry Gothabaya Rajapaske are due to visit the Northern Province to declare open the above 'War housing scheme' in the near future, reports GTN.
GTN